Popcorn Time Is Back With a Version It Says "Will Never Be Taken Down"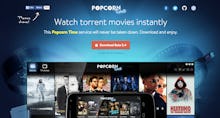 Mic/Popcorn Time
Less than two months after the link to movie pirating site Popcorn Time was reportedly shut down "for good," the service, which illegally streams movies, is back with a new link that "will never be taken down," according to the site. The new site, popcorn-time.se, has been quietly circulating on Twitter since Jan. 2. 
According to the site's administrators, users with Mac OSX 10.7 and above can download the Beta 5.4 version of the service from the homepage. "If the movie is out there, Popcorn Time will find the best version possible and start streaming it right away," the site reads. The illegal free service also promises HD quality and subtitles. 
A Popcorn Time representative told TorrentFreak in October that the shutdown was a result of an outsider tampering with the site. "In the last few days someone has been [tampering] with our infrastructure, mainly our DNS service, and we can't convince our provider Gandi.net that we are us and want to stay online," the representative said.
The illegal content streaming service launched in 2014 using pirated BitTorrent to provide movies to users for free. The site has shut down a couple of times since then but has managed to resurface against industry pushback. In March, Wired reported the service was getting 100,000 downloads a day with 4 million users total.