Donald Trump Says Megyn Kelly is "So Average" — Here's Why He's Wrong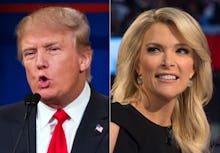 John Minchillo/AP
In a post to Twitter early on Monday afternoon, republican presidential hopeful and frontrunner Donald Trump took a swing at Fox News Channel host Megyn Kelly. "@megynkelly recently said that she can't be wooed by Trump. She is so average in every way, who the hell wants to woo her!" Trump tweeted. 
The comment prompted shock and detestation from users on Twitter, many of whom, in commenting on Trump's post, calling him "bitter" and telling him to "grow up."
Read more:
Here's what Trump thinks is "average": According to her biography, Kelly attended Syracuse University where she obtained a B.A. in Political Science, then went on to earn a J.D. and graduate with honors from Albany Law School in 1995. In 2014, Kelly was named to the selective and prestigious Time 100: The Most Influential People in the World list, according to her biography.
During her career, Kelly has worked for big-time news networks, including ABC 7 in Washington, D.C. For nine years, she worked as a corporate litigator at Bickel & Brewer LLP law firm in Chicago.  
Kelly has worked in a number of capacities for Fox News Channel since she joined the network in 2004. Today, she is the anchor and host of the weekday news show The Kelly File. 
For her achievement and for the comments that make many see her as a champion for feminism, Kelly will appear on the February cover of Vanity Fair. "Kelly is a newly minted role model for women who sees her gender as irrelevant, and a conservative champion who transcends politics with her skillful skewering of windbags of both parties, most notably Donald Trump," Vanity Fair reported. 
Butting heads is nothing new for Trump and Kelly, who've sparred more than once in recent months. During a Republican primary debate in early August, Kelly challenged Trump on the sexist comments he's made regarding women. Trump apparently held a grudge after the exchange.