Is 'Supernatural' Getting Canceled? Here's Everything We Know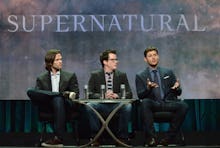 Richard Shotwell/AP
Will the CW's Supernatural make it to its twelfth season? Rumors have been swirling that the show, which first premiered in 2005, may be on the verge of cancellation after eleven seasons on the air. Luckily for Supernatural fans, those rumors of the show's demise seem to be pretty unfounded. 
"Both Jared [Padalecki] and Jensen [Ackles] are having a blast," CW President Mark Pedowitz announced during the the Television Critics Association winter previews on Sunday, as reported by TV Guide. "As long as they're having a blast, it's a great thing. The show is performing better than it did last year, as well as you could ever hope ... I'm very hopeful that we'll see it again."
The show follows the road-tripping exploits of the Winchester brothers, Dean and Sam, who travel around in an old car, fighting demons and ghosts. Supernatural is the CW's longest-running drama. 
With both of the show's stars — and the network president — seemingly on board for another season, it seems unlikely that Supernatural will be canceled any time soon.