6 Ridiculous Facts That Put the Powerball Jackpot in Perspective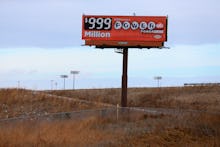 Nati Harnik/AP
If someone wins the record breaking $1.4 billion Powerball jackpot Wednesday, there's a huge decision to make: opt to take the winnings in 30 payments over 29 years, or take the money in one lump sum at the tune of $868 million. After federal taxes, the winnings are reduced to $524.3 million, and then followed by state and local taxes, which could reduce your net winnings to $394.1 million, according to CNBC.
 "People like the idea of winning, and they don't like the idea of paying the tax," Susan Bradley, a certified financial planner and founder of the Sudden Money Institute in Palm Beach Gardens, Florida, told CNBC. "My general feeling on that is, get a good accountant, pay all the tax and be done with it."
Either way, $1.4 billion is a ton of money. Sometimes it can be difficult to grasp how much money a billion dollars really is. These ridiculous facts will attempt to put the wealth in perspective.
Read more:
1. The jackpot can't fit on billboards.
The estimated $1.4 billion jackpot is such a large number that billboards around the United States must advertise the price as $999 million. The billboards are not built to show billions in numerical format. 
2. The jackpot is larger than the gross domestic product of some countries.
According to the CIA, the GDP is the value of all final goods and services produced within a nation in a given year. With the jackpot at a $1.4 billion, the lottery winner would have more money than the entire GDP of several countries, including Samoa at $827 million, Tuvalu at $38 million and Anguilla at $175.4 million.
3. You could pay four years of tuition for more than 50,000 students at UConn.
According to the Hartford Courant, the lottery winner could pay four years worth of in-state tuition for 54,259 students at the University of Connecticut. This includes the students' estimated yearly expenses, which round out to $25,802. As a frame of reference, 31,119 students enrolled for classes at the Storrs, Connecticut, campus in 2014.
4. With the jackpot, you could treat everyone in the United States to Dunkin' Donuts.
Here's an easy way to become the most well-liked person in the United States. The lottery winner would be able to purchase a small Dunkin' Donuts coffee, at the price of $1.59 for every citizen in the United States, the Hartford Courant reported. With the money leftover rounding out to $292,949,000, the lottery winner could buy nearly 97 million boxes of a dozen donuts at the price of $8.99 each. 
5. You could buy some pretty big companies with the winnings. 
The lottery winner would be able to purchase companies that many Americans are familiar with. According to CNN Money, the lottery winner would be able to buy Men's Wearhouse at $585 million, La-Z-Boy at $1.1 billion, Red Robin Gourmet Burgers at $812 million or Barnes & Noble at $662 million.
6. If you think you could buy every number combination possible to ensure your win, guess again. 
According to CNN Money, there is a slim possibility that a person could purchase every Powerball combination —at the price of $584 million. However, even that individual was able to purchase one ticket every second, it would take them over nine years to purchase every combination. 
Lottery ticket purchasers aren't able to purchase Powerball tickets by clicking online, unless they live in Illinois or Georgia. Otherwise, the tickets must be bought in person. 
An Australian investment group made a valiant attempt to purchase every single number in 1992. However, they were unsuccessful because the group was unable to purchase every number before the time limit was up.
Correction: Jan. 12, 2016