Helmet Cam Footage Shows What Might Be the Mexican Marines' Raid on El Chapo's Hideout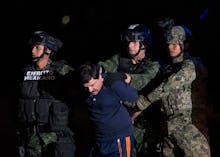 After the capture of Joaquín "El Chapo" Guzmán Loera on Friday, the media has been spilling all of the drug lord's secrets, be it in the form of a 10,000-word Rolling Stone interview or in a reveal of the tunnel system that helped him prison twice. Now, Mexican news outlet Televisa has released video purporting to document the moment Mexican authorities seized Chapo.
According to Fusion, Mexican officials edited the 15 minutes of (graphic) footage, which a Mexican television station said was shot on GoPro cameras strapped to the helmets of the marines involved in the assault. The raid resulted in the deaths of five suspects, with one marine sustaining an injury. El Chapo was in possession of an assault rifle but did not fire it during the raid.
The "Cisne Negro," or "Black Swan" operation, took place in a hideout in the coastal city of Los Mochis, Mexico, but El Chapo has several safe houses across the country. El Chapo wasn't immediately captured in the hideout, escaping through a drain before marines took him into custody near a highway. 
Though he's been returned to the Mexican prison from which he escaped in July, authorities have plans to extradite El Chapo to the United States, where he will face charges for trafficking what he claims to be 25% of drugs imported to the country.
You can watch the supposed helmet cam footage of the raid here. Warning: It's graphic.