Uber Is Cutting Prices in More Than 100 Cities — Here's What We Know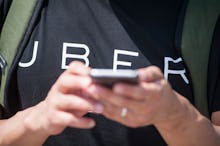 Martin Ollman/Getty Images
January may mean terrible weather for much of the country, but on the bright side, it also means cheaper Uber rides. The ride-sharing giant announced in a statement on its website on Friday that it would be "cutting prices in more than 100 U.S. and Canadian cities" starting over the weekend.
The statement from Uber cited "the winter slump" as a reason for the lowered prices, saying, "Seasonality affects every business, and Uber is no exception because when people hunker down at home, demand for rides drops."
Read more:
Uber made headlines at the start of the year after many users complained about surge pricing on New Year's Eve, a practice the company has struggled to defend in the past.
Uber didn't offer a full list of the "more than 100" cities in which prices will drop, nor did it offer specific numbers. But the statement released on Friday cautioned that price adjustments for the slow season don't always work, saying, "Last year, for example, earnings fell in some cities and we changed back. ... And in two cities, including Seattle, we ended up reversing the price cuts entirely when it became obvious that prices were already low enough."