'Mob Wives' Season 6: Full Preview, Viewing Info and How to Watch Online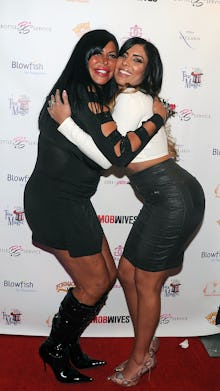 Bobby Bank/Getty Images
Guilty pleasure reality show Mob Wives returns for its sixth and final season this week: The season, titled Mob Wives: The Last Stand, will kick off on Wednesday, Jan. 13, at 8 p.m. Eastern on VH1.
According to a post on VH1's website, season six "returns the focus exclusively to where it all began — New York City. The Philly girls have left the building, and the 'OG' cast is back together on Staten Island, where they always keep it 'one-hundred' with each other."
The new season will focus on returning cast members Renee Graziano, Karen Gravano, Drita D'Avanzo, Carla Facciolo and Big Ang, as well as Brittany Fogarty and Marissa Fiore.
There's sure to be some drama around the corner, as the final season will feature D'Avanzo writing "a tell-all memoir" and Gravano "trying to kick-start her role as 'momager' for her daughter Karina's modeling career," among other new developments.
Mob Wives: The Last Stand premieres on VH1 on Wednesday and will also be available to stream on the network's website.