Rand Paul and Carly Fiorina Miss the Cut for Main Stage at Charleston Presidential Debate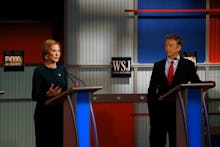 The guest list for the "kiddie table" just got a little bigger.
Republican presidential hopefuls Sen. Rand Paul and Carly Fiorina saw their chance for another prime-time debate appearance slip away Monday when Fox Business Network announced that the B-list candidates' poll standings didn't qualify them for slots on the main stage for Thursday's showdown in Charleston, South Carolina.
Real estate magnate Donald Trump, the frontrunner in the latest polls, will once again take the center podium at 9 p.m. Eastern on Thursday. He'll be flanked by Texas Sen. Ted Cruz, Florida Sen. Marco Rubio, retired neurosurgeon Ben Carson, ex-Florida Gov. Jeb Bush, New Jersey Gov. Chris Christie and Ohio Gov. John Kasich:
Paul, who represents Kentucky in the Senate, and Fiorina, the former head of Hewlett-Packard, were invited to participate in a 6 p.m. "undercard" debate, along with former Arkansas Gov. Mike Huckabee and former Pennsylvania Sen. Rick Santorum.
Paul, however, quickly announced he wouldn't bother appearing with the underdogs.
Paul's campaign questioned the criteria used to establish the lineup and said he "by any reasonable criteria" has a "top-tier campaign."
The defiant Team Paul's statement continued, "This race is hitting its final stretch and Rand Paul is in it to win it. He is on the ballot in every state ... He is an important voice and has a unique message to share.
"He will hit the ground running this week to double down on his efforts to talk straight to the voters. See you in New Hampshire and Iowa."
Paul's roller-coaster quest for the nomination could be seriously harmed by the denial of a prime-time TV slot. The Fox guidelines reserved main-event slots for candidates who ranked in the top six in an average of the five most recent national polls, or the top five in an average of the five latest Iowa or New Hampshire polls.
Fiorina, the lone woman among the major GOP candidates, initially appeared in undercard debates, but turned in such a strong performance that host CNN adjusted the criteria in a way that allowed her entrance to the main event in September. Her star has seemingly faded since then.
The Republican National Committee-sanctioned Thursday debate — which comes three weeks before the pivotal Iowa caucuses — takes place at the North Charleston Coliseum and Performing Arts Center.