ISIS Sucide Bomber in Historic Istanbul Neighborhood Leaves 10 Dead and 15 Wounded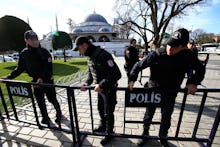 At least 10 people are dead and 15 injured on Tuesday, after a suicide bomber detonated an explosive in Sultanahmet, a neighborhood in Istanbul that is especially popular with tourists, BBC reported. 
Turkish Prime Minister Ahmet Davutoglu has blamed the Islamic State group, or ISIS, for orchestrating the attack, Associated Press reported.
The blast went off at approximately 10:20 a.m. local time in Sultanahmet Square, close to the city's iconic landmarks, the Hagia Sofia and Blue Mosque. 
Turkish Deputy Prime Minister Numan Kurtulmus said in a press conference that a 28-year-old Syrian suicide bomber is responsible for the attacks, according to the Guardian. He also noted the majority of those killed were foreigners. 
"Investigations into the cause of the explosion, the type of explosion and perpetrator or perpetrators are underway," the Governor of Istanbul's office said in a statement, according to local news outlet Dogan, Al Jazeera reported. 
Among those injured were reportedly one Peruvian, one Norwegian and six Germans. 
"It was unimaginable," a police officer at the square told Reuters, describing footage of the scene right after the blast where bodies reportedly littered the ground. 
In the Turkish capital of Ankara, Davutoglu met with the heads of the Interior Ministry and security for an impromptu meeting shortly after the attack to discuss "terrorist links," a senior official said, according to Reuters. 
Turkish President Recep Tayyip Erdogan described his country as a "top target for all terrorist groups in the region" after the attack and declared Turkey was "fighting against all of them equally," the BBC reported.
However, the relationship between Erdogan's country and violent extremists is more complicated than his statement would have one believe.
Turkey's southern border, shared with Syria, has been largely responsible for the emergence of extremist factions — including the free flow of ISIS militants, many of whom have used Turkey as their gateway into the conflict zone. 
International criticism of its border policy notwithstanding, Turkey claims there is not much it can do to inhibit the flow of ISIS and other militants in and out of the country.
"We cannot put soldiers everywhere on the border," Davutoglu told the Independent in 2015. "In any case, there isn't any state on the other side [of the frontier]."
David L. Phillips, director of the Program on Peace-Building and Rights at Columbia University's Institute for the Study of Human Rights and a Turkey specialist, believes the ruling AKP government is largely responsible for the creation of ISIS. 
Many, along with Philips, contend the government has looked the other way on ISIS because they have common enemies in Syrian President Bashar al-Assad and Kurdish freedom fighters, the latter posing a threat to Turkey's central government.
"I think Turkey helped to create a monster, and now it can't control ISIS," Phillips previously told Mic. "It may have buyer's remorse, but it plays a huge responsibility for supporting jihadis and radicalizing the battlefield in Syria."
NATO's general secretary, Jens Stoltenberg, publicly offered support to the country after Tuesday's suicide bombing, saying NATO has no tolerance for terrorism.
Evidently, Turkey's relationship with ISIS is a little more convoluted than Stoltenberg's — and Erdogan's — rhetoric suggests. The country may be paying a price when it comes to ISIS' violent agenda, but their relationship is far from black and white: It's a murky spectrum of gray.
Jan. 12, 2016, 10:35 a.m. Eastern: This story has been updated.