GabiFresh's Latest Plus-Size Swimsuit Collection Has Cup Sizes That Go Up to "H"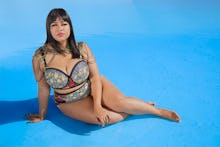 Gabi Gregg, better known as GabiFresh, is back with her latest collection for plus-size swimwear retailer Swimsuitsforall. The plus-size blogger has been working with the company for four years now, turning out colorful, playful bathing suits for sizes 8 and up.
Now Gregg has a new collection that's more extensive than previous ones, with cover-up options and tops with bust cups that go up to a size H.
The collection, which went on sale Tuesday, features GabiFresh looking pretty much like a queen. Actually, make that the "Queen of the Bikini," complete with a throne, scepter and plenty of two-piece swimsuits that are rarely offered in plus sizes. GabiFresh's collection is part of Swimsuitsforall's "Swim Sexy" label, and each item is sold in sizes 8 through 32.
The point, Gregg told Mic via email, is for women "to feel confident and comfortable" in swimsuits.
"Queen of the Bikini," is perhaps a fitting title for GabiFresh, given that she helped popularize the term "fatkini" in 2012 in a post for XOJane. GabiFresh had previously posted a photo of herself in a bikini on the site, but the second time around she expanded her post to include other women. The final result was a gallery showing curvy women of varying sizes proudly wearing bikinis. The post went viral, and soon enough the blogger was invited on Today to talk about body image. 
Now with her collections, she can give women what they deserve — at all sizes.
"For so long, all we had were matronly options, so I wanted to provide trendy and fashion-forward suits that make women feel beautiful," Gregg told Mic.
Swimsuits that run up to a size H are rare in the world of bathing suit retail. Swimsuits at Target, for example, can go up to a DD, while J.Crew makes tops into a 38DD. Billabong, known for its bathing suits, only goes up to a DD. Going shopping each summer and failing to find your size only contributes to women's negative feelings about their bodies — and women have plenty to feel negative about. 
"They're taught that having fat is bad, cellulite is bad, stretch marks are bad, acne is bad," Gregg said, listing the endless flaws excluded from what a "good body" supposedly looks like. "So in this world where we are so obsessed with how our bodies look, it's no wonder that shopping for swimsuits can bring up a lot, because so much of your body is exposed."
There are plenty of brands, swimsuit lines included, that lean into that ideal. "Bikini bodies" and "beach body" diets are the norm, Gregg pointed out, and "we're up against a world that makes money off of our insecurities." 
That's why offering swimsuits in larger sizes is one step toward helping combat the negativity, she said. "It's one step in letting girls and women know they are worthy and deserve to look good and feel good."