Bernie Sanders Is Crushing It Among Young Voters, a New Poll Shows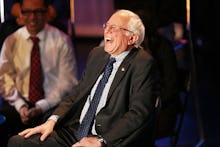 If Sen. Bernie Sanders (I-Vt.) pulls off a stunning upset and defeats former Secretary of State Hillary Clinton for the Democratic presidential nomination, he'll have young voters to thank.
The latest weekly tracking poll from NBC News/SurveyMonkey tells the tale. In line with other recent surveys, the poll shows Clinton with a 15-point national lead over Sanders, taking 52% of the vote to Sanders' 37%, with former Maryland Gov. Martin O'Malley clocking in at 2%. But among Democratic voters under 24, it's Sanders in a cakewalk: The Vermont senator notches 68% among this cohort, while Clinton comes in at just 26%.
The finding dovetails with other polls that show Sanders' anti-establishment message of combating income inequality and concentrated power resonating with millennials. A USA Today/Rock the Vote poll released Monday showed Sanders leading Clinton 46% to 35% among Democratic voters between the ages of 18 and 34, and a Harvard Institute of Politics poll released last month found Sanders with a 41% to 35% edge among millennials.
If an often-curmudgeonly 74-year-old senator seems an unlikely tribune for young voters, it becomes less surprising when you look at their views on a range of issues. The USA Today/Rock the Vote poll revealed that millennials hold broadly progressive views on topics like climate change, criminal justice reform and accepting foreign refugees. Moreover, a recent NBC News/Wall Street Journal poll showed that millennials strongly favor an activist role for government, as does Sanders: Millennials in the poll said by a 60%-to-37% margin that government should take more steps to tackle big problems instead of relying on private businesses and individuals to address them.
Should Sanders convert his strong millennial support into robust voter turnout, he'll be much better-positioned against the Clinton juggernaut. As Sanders looks to score a victory in the Feb. 1 Iowa caucuses, young voters may be the key: The most recent Bloomberg Politics/Des Moines Register survey of the Hawkeye State found that while Sanders trailed Clinton by 9 points overall there, he led 49% to 40% among first-time caucusgoers and 58% to 31% among those under 45. 
Sanders has crept even closer to Clinton in Iowa since that poll's release last month, even pulling ahead in an American Research Group survey released Monday.