A Muslim American Whose Mosque Was Attacked Will Attend Tonight's State of the Union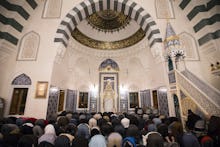 An invitation to the State of the Union is often more than just a personal honor, often coming as a symbolic, political act. Rep. Joe Courtney's (D-Conn.) decision to invite Dr. Mohammed Qureshi, president of the Baitul Aman Mosque in Meriden, Connecticut — which was shot at in the midst of the Paris attacks — to tonight's address sends a meaningful message to supporters of the recent spike in Islamophobic attitudes and attacks in the United States as well as abroad.
The attack: After learning of the terrorist attacks that had just occurred in Paris on Nov. 13, and after drinking at a local bar, Ted Hackey Jr. fired several rounds from his semi-automatic rifle at the Baitul Aman Mosque, a mosque in his Connecticut neighborhood, according to the Washington Post.
Rather than condemn Hackey, though, Qureshi regards the incident as an opportunity to address Islamophobia in his community. 
"It makes me feel we have to do a better job of reaching out and being more visible and doing more good," Qureshi — who also provides affordable medical care to low-income families and the elderly in his community — told the Washington Post. While terrorist groups like ISIS cause "so much destruction and killing," the doctor added, "Islam's real message is peaceful."
This incident "made the heightened anti-Muslim fervor out there even more despicable to me," Courtney told the Post. "This year obviously there's this very ugly, nasty un-American rhetoric that can trigger not just insults and ideas about policies ... but also trigger acts of violence." Qureshi and his peaceful approach, however, "is the perfect antidote," Courtney said.
A wave of attacks: Qureshi's mosque is unfortunately just one of many that were ignorantly targeted in recent months. In December, several mosques, including one in Philadelphia and another in Australia, found severed pig heads — an offensive symbolic reference to Muslim dietary laws — planted at their facilities. Around the same time, 23-year-old Carl Dial was charged with "arson, hate crime, and burglary," after attacking a mosque in Coachella, California.
In addition to attacks on their places of worship, many Muslims have reported facing other forms of degradation and violence. Several Muslim New Yorkers reported being verbally abused and/or physically assaulted in November, the New York Times reported, and Muslims in France, the United Kingdom and other European countries faced similar hate crimes over the past few months, according to a DW report.
Yet plenty of Muslims — in the United States and around the world — have clearly condemned such actions and staunchly confirmed their opposition to terrorism in the aftermath of these attacks. For example, Muslims around the world participated in the hashtag #NotInMyName to counter the false association between Islam and terrorism.
"To me, terror knows no religion," Philistine Ayad, a Muslim feminist, told CNN in November. "They are picking and choosing aspects of the religion and twisting and distorting them in order to justify their actions that are unjustifiable."
A symbolic gesture: Courtney is not the only politician to invite Muslim American guests to the president's final State of the Union: At least 20 Democrats are planning to bring Muslim American guests, the Washington Post reported, and politicians have challenged Republican politicians to do the same. Rep. Keith Ellison (D-Minn.), the first Muslim American elected to Congress, even dared Republican Speaker of the House Paul Ryan to invite a Muslim American to the address, the Hill reported on Friday.
Important figures representative of other systemic injustices in the nation will attend the address as well. Rep. Barbara Lee (D-Calif.) invited #BlackLivesMatter co-creator Alicia Garza as her guest, according to BET.
Hopefully, the presence of Qureshi and other Muslim American and activist figures at this event will serve as a pertinent reminder that violence born from ignorance is an unacceptable response to broader issues in the world.
h/t Washington Post