Ciara's Dress for the CFB Game Caused a Twitter War, but Fans Had Her Back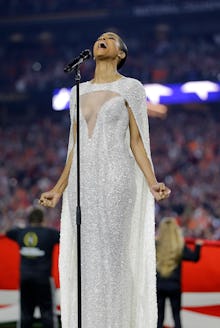 David J. Phillip/AP
Singer Ciara received a lot of attention for her performance of the national anthem at the College Football Championship game Monday — not for her powerhouse vocals, but for her plunging neckline gown. Ciara's dress prompted the vice president of content at Campus Insiders to say she should "cover up" because "kids are watching" while a Fox Sports reporter called it a "public-titty stunt" on Twitter. 
"Dear Ciara," Campus Insider's Bonnie Bernstein tweeted about Ciara's outfit choice. "You're stunning. But this is a National Championship Game. Kids are watching. Cover up."  The Twittersphere, however, had Ciara's back, and an influx of Twitter users responded to Bernstein in disagreement. 
Read more:
Here's the subject of controversy:
Here's how many social media users defended Ciara:
Fox Sports reporter Jason Whitlock endorsed Bernstein's opinion with a retweet that said the "nudity" distracted from Ciara's voice, followed by a series of tweets defending his and Bernstein's opinion after Twitter retaliated against him as well. 
The Ciara controversy speaks to a broader controversy: the social stigma attached to women's breasts. There are still 17 countries in the world where women are brutally punished — imprisonment, prosecution, fines and lashings — for publicly bearing their breasts. 
Filmmaker Lina Esco's viral Free the Nipple movement, launched a few years ago, directly targets the stigma. "When I started my online campaign, Facebook and Instagram banned the photos of topless women that were taken on location, faster than we could put them up," Esco wrote in 2013. "Why can you show public beheadings from Saudi Arabia on Facebook, but not a nipple? Why can you sell guns on Instagram, but yet they will suspend your account for posting the most natural part of a woman's body?"