President Obama Will Be Interviewed by YouTube Stars After His State of the Union Address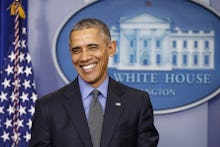 On Friday, three YouTube stars — Destin Sandlin, Ingrid Nilsen and Adande Thorne, aka Swoozie — will sit down for an interview with President Barack Obama. 
The chat will follow the president's final State of the Union address on Tuesday, and he'll also be answering questions from viewers using the hashtag #YouTubeAsksObama. 
The interview will continue Obama's tradition of taking to YouTube after his State of the Union addresses, a habit he developed in 2010. Previous interviewers include GloZell Green, who referred to First Lady Michelle Obama as the president's "first wife," and Bethany Mota, who quizzed him on what kinds of TV shows he watched.
"This interview continues our efforts to meet people where they are — and make it possible for people around the country to watch and engage with the State of the Union in new ways," Kori Schulman, the White House's deputy director of digital strategy, wrote on Monday.
This, of course, folds neatly into Obama's strategy to reach out to the youngs — an audience, as the Washington Post noted in 2015, that likely won't be tuning in for the actual State of the Union. It's also another entry into the presidential handbook of sitting down with celebrities — including Zach Galifianakis, Charles Barkley and David Attenborough — instead of actual media correspondents.
Obama can't be reelected, so what's the point of connecting with this young audience? Arguably, this is about his legacy. Given his efforts to appeal to young voters — his shrewd use of social media during his 2008 campaign, for example — he could be remembered as the president who made the biggest effort to reach out to the youngest Americans.
There's still no word on what Sandlin, Nilsen or Swoozie will ask Obama about, but given Sandlin's science and education background, he could touch on climate change or science in school curriculums. Nilsen generally focuses on lifestyle-oriented topics — she came out as gay in June 2015 to applause from the YouTube community — while Swoozie is an avid gamer and animator.
Tune in to President Obama's final State of the Union address tonight at 9 p.m. Eastern.