Hillary Clinton Plays Patty-Cake on 'Ellen', Talks About Guns and Kim K, and It's Amazing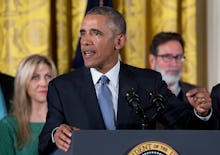 Carolyn Kaster/AP
Democratic frontrunner and presidential hopeful Hillary Clinton appeared on The Ellen DeGeneres Show Monday, and the episode ranged from somber discussion of gun violence in the United States to airier moments concerning the candidate's reactions to her portrayal on Saturday Night Live, her recent run-in with celebrity TV royalty Kim Kardashian West and a laughter-filled game of patty-cake.
On Monday, Kardashian West posted a photo of herself and Clinton to Instagram, captioning the post, "You have to see the Ellen Show today! Hilary Clinton talks about how she never looked better in our perfectly lit selfie!!!! #LUMEE #LOVEHER." As of Tuesday morning, the photo had garnered nearly 700,000 likes. 
Read more:
"Of course, when she says to me, 'Can we take a selfie?' I say, 'Hello, of course!" Clinton told DeGeneres, describing the encounter she had with Kardashian West. "That's like an obvious answer."
Despite the joyful games and regaling the audience with celebrity encounter retellings, the episode took a somber turn when DeGeneres steered the conversation toward gun violence in the U.S. and the fear that persists for some Americans. "I know people are scared, and I understand that completely because we do live in some really complicated and new times where things are happening that just don't seem to add up, they don't make sense," Clinton said. "I've spent a lot time around families that have lost kids and loved ones to gun violence. And there's just no words."
"And I was so proud of the president the other day when he said, hey, we've got to do something to try to stop all this gun violence," Clinton added, which invited a round of applause from the audience.
Last week, President Barack Obama held a public address during which he proposed executive measures aimed at redefining gun control legislation in the U.S. "I believe in the second amendment, that guarantees a right to bear arms," Obama said. "I believe that we can find ways to reduce gun violence consistent with the Second Amendment." The decision followed months of heightened gun violence and mass shootings in the country, for example the deadly attack in San Bernardino, California, on Dec. 2 that took the lives of at least 14 people.
"There's a lot to be afraid of, I think that it's fair for people to feel that," Clinton added, speaking to DeGeneres on Monday. "But at the same time, we have to put it into the right context. It is not a pervasive, all-encompassing set of threats, and we have to get together and work together to try to eliminate the threats as much as possible. And we can do that."
Watch the full interview here: