LAPD Chief Calls for Charges Against One of His Own Officers After Fatal On-Duty Shooting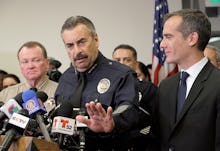 The May killing of Brendon Glenn was so egregious that even Los Angeles Police Chief Charlie Beck recommends that the officer involved should face charges.
In a statement made to the Los Angeles Times Monday, Beck said that most police shootings are justified, but "in those much rarer cases where a shooting is not justified — and on top of that, not legal — I will also say that."
Glenn, 29, was shot twice in the back the night of May 5 while lying on his stomach in the beachside residential district of Venice, California. He was homeless and had recently been involved in a scuffle with a bouncer at a bar nearby. 
The LAPD officer who pulled the trigger was Clifford Proctor, whose lawyer said Glenn was going for his partner's gun. If charged, Proctor will usher in the first criminal case brought against a police officer by Los Angeles County prosecutors for an on-duty shooting in 15 years, according to the Times. 
Both men are black.
After reviewing video footage and eyewitness accounts of the incident, investigators found that Glenn was not trying to grab either officer's gun, and Proctor's partner said he didn't know why his partner opened fire in the first place, the Times reported.
Los Angeles Mayor Eric Garcetti has weighed in, too, saying he hopes Beck's input will be "considered with the utmost gravity."
Los Angeles County District Attorney Jackie Lacey has maintained that she will stay neutral throughout the investigation into the incident, saying, "As the county's top prosecutor, it is my ethical obligation to remain impartial until a thorough and independent investigation is completed by my office," the Times reported. "Decisions on whether or not to file criminal charges will be based solely on the facts and the law — not on emotion, anger or external pressure."
Meanwhile, Proctor's attorney, Larry Hanna, decried the call for charges against his client as a "political decision" on the part of the LAPD, the Times reported.
Police in Los Angeles have a long and brutal history of violence against the city's black communities, sparking two of the 20th century's most violent urban riots, in 1965 and 1992. More recently, Beck cleared two officers involved in the August 2014 shooting of Ezell Ford, who became a rallying symbol for protesters around the same time as Michael Brown in Ferguson, Missouri, and Eric Garner in Staten Island, New York.
LAPD officers were also involved in the video-recorded killing of a homeless man named Charly "Africa" Leundeu Keunang on Skid Row — a 50-block area of downtown Los Angeles said to be home to up to 2,000 homeless residents, the largest such concentration in the country — in March.
These incidents, combined with a recent uptick in legislation that criminalizes homelessness, illustrate some the dangers facing black people during encounters with the police in Los Angeles County, where 38% of the region's more than 40,000 homeless people are black.