Who Is Playing Han Solo? Here's Who We Love From the Short List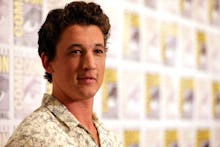 Eric Charbonneau/AP
After the huge commercial success of Star Wars: The Force Awakens, Variety reported that Disney and Lucasfilm are currently searching for an actor to play the young Han Solo for its upcoming Star Wars spinoff project.
According to Variety, executives viewed the resumes of thousands of actors, but the list has been whittled down to around a dozen. Some of the actors that made the cut were 21 Jump Street's Dave Franco, Project X star Miles Teller, Brooklyn star Emory Cohen and Transformers actor Jack Reynor.
Sources told Variety that the film will not be shot until next January, but whoever is chosen as Han Solo may also appear in an upcoming Star Wars film titled Rogue One: A Star Wars Story.
Here's who we think would do well as the new captain of the Millennium Falcon:
Miles Teller
The 28-year-old actor has appeared in several feature-length films as a main character since his debut in the 2010 film Rabbit Hole. Since then, he has appeared the 2011's Footloose, the 2012 film Project X and held lead roles in The Spectacular Now in 2013 and Fantastic Four in 2015. After Fantastic Four turned out to be a box office bust, Teller could have a strong rebound as the next Han Solo.
Dave Franco
21 Jump Street actor Dave Franco has had noticeable roles since his acting career began with the hit drama television series 7th Heaven in 2006. Franco appeared in the film Superbad in 2007, Charlie St. Cloud in 2010 and Now You See Me in 2013. A lead role as Han Solo could be the breakthrough Franco needs. 
Jack Reynor
The Irish actor first made waves overseas with his role in Lenny Abrahamson's Irish Film What Richard Did in 2012. In the United States, his breakthrough role was Shane Dyson in Transformers: Age of Extinction. Showing his acting chops in the Transformers film and as Josh in Delivery Man, the 23-year-old actor could do justice to the character of Han Solo.
Logan Lerman
The 23-year-old, best known for his lead role in the Percy Jackson fantasy-adventure films, is another fine candidate for the spot of Han Solo. With leading roles in the 2014 films Noah and Fury, Lerman has the acting experience to pull off the space smuggler's character.
The untitled spinoff is slated for release on May 25, 2018.