Best Netflix Documentaries to Watch After 'Making a Murderer'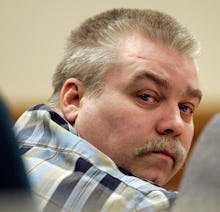 Morry Gash/AP
Since it's release in December, Making a Murderer has caught the attention of virtually every Netflix subscriber — and with good reason. The 10-part series portrays the true story of Steven Avery, and his criminal convictions under questionable circumstances. The Netflix original series is undoubtedly one of the best in the true crime genre, and a must-watch for any documentary buff. However, Netflix's library is vast, and includes several award-winning documentaries. For those who have finished Making a Murderer and want to broaden their documentary interests, these are worth your attention. 
The Imposter
It's hard for a documentary to delve into the subtle creepiness of a thriller, but The Imposter does so effortlessly behind a compelling and disturbing story. It follows the Barclay family, whose 13-year-old son, Nicholas, goes missing in 1994. Three years later, he seemingly returns to the family, but he's noticeably different. He is, in fact, being portrayed by a French con artist in his 20s, Frédéric Bourdin. It sounds like a real-life version of Orphan, and it's just as creepy. Most importantly, it's a fascinating psychological examination of how families deal with tragedy and unexpected loss. 
Life Itself
One of the most important film critics in the industry's history, Roger Ebert's impact still resonates today. Life Itself, which took its name after Ebert's own memoir, traces Ebert's history in film, in addition to detailing the final years of his life. Even when he lost the ability to speak due to cancer in his salivary glands, his written voice and his infectious enthusiasm for film remained as strong as ever. 
Jiro Dreams of Sushi 
Jiro Dreams of Sushi follows one of the greatest sushi chefs in the world, Jiro Ono, whose ever-popular restaurant serves $240-a-meal sushi in Tokyo. The documentary is an exemplary portrayal of Japanese culture and heritage, and the meticulous detail Jiro puts into each and every plate. And, of course, it's some of the best food porn you'll ever see. 
Virunga
Another Netflix original, Virunga explores the constant struggle for power in the Democratic Republic of the Congo's Virunga National Park. Poachers are a constant threat to the extremely endangered Congolese mountain gorillas while a British oil company, Soco International, is eyeing the land for oil. It's a harrowing struggle for park rangers, gorilla specialists and journalists to deal with, and another unfortunate example of corporate greed under the guise of violence.  
Hot Girls Wanted
Hot Girls Wanted is an intimate portrayal of the porn industry, and follows several women during their start as amateur porn actresses. From the beginning it's apparent that the industry exploits women with short-lived careers. An industry that's often overlooked in its potential abuses, Hot Girls Wanted is a heartbreaking story, albeit one that's highly influential and essential in the digital space. 
Man on Wire
While the 2015 feature film, The Walk, is also based on the story of high-wire artist Philippe Petit, Man on Wire succeeds in capturing Petit's charisma as he tightropes across the World Trade Center's Twin Towers in 1974. Man on Wire is also able to use footage of Petit's walk for the documentary, which further adds to the suspense. 
The Act of Killing
Through the lens of former war criminals in the 1965-66 Indonesian genocide, The Act of Killing takes the unconventional approach of following the killers, rather than the victims. When Anwar Congo and Herman Koto first speak with documentarian Joshua Oppenheimer, they're proud about their role in the genocide, with Congo potentially killing about 1,000 people with his own hands. However, in an interesting psychological twist, Oppenheimer asks Congo and Koto to recreate their murders on a film set. It then becomes a film about a film — very meta. As a result, viewers get to see how Koto and Congo's perceptions change about the genocide and whether they are true sinners. 
Undefeated 
An Academy Award-winning documentary, Undefeated follows a high school football team in Memphis, Tennessee, whose coach, Bill Courtney, instills resiliency in a team harrowed with issues on and off the field. The school is in one of the poorest neighborhoods in the state, and had suffered a plethora of soul-crushing losing seasons. However, under Courtney's leadership, the team attempts to achieve unprecedented success in several facets of life. Overall, Undefeated is a prime example of how sports can transcend a game and touch the humanity of an entire community.