Elon Musk Says His Self-Driving Cars Can "Probably" Drive Better Than You Can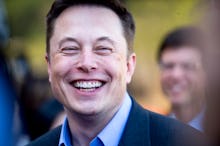 Tesla CEO Elon Musk is so confident that his self-driving technology is ready for the road, he's throwing shade at human drivers. 
"It's probably better [at driving] than a person right now," Musk said during a conference call, according to the Washington Post. On Sunday, Musk revealed the car's newest feature, called "summon," which allows Tesla owners to call their car to their current location. 
During the same call, the CEO also announced that it would be rolling back aspects of its autopilot feature, according to Reuters. 
Tesla's autopilot feature launched last October; it was the first release of Tesla's self-driving technology to the public. The update enabled the car to self-steer, autonomously change lanes, signal a side collision and take over in case of an emergency. Though the company warned users the feature was still in beta, people tried it out and not everyone was pleased. The video below is one example:
The backlash has led to limits on autopilot for now, but that hasn't shaken Musk's confidence in the car.