Scott Walker Won't Pardon 'Making a Murderer''s Steven Avery, and He Won't Change His Mind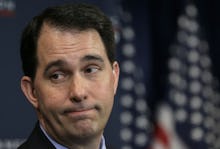 Win McNamee/Getty Images
Scott Walker hasn't granted a single pardon out of thousands of requests in his five years as governor of Wisconsin — and he isn't about to make an exception for Steven Avery, the subject of Netflix true crime series Making a Murderer. Walker, a former 2016 Republican presidential contender, has a reputation for being tough on crime, and in 2011, not long after taking office, suspended pardons indefinitely.
"Viewers of the Netflix series on Steven Avery should read the unanimous opinion of the Court of Appeals before jumping to conclusions," Walker wrote in a Facebook post Monday with a link to the full 2011 opinion, including a list of evidence explaining the court's decision to uphold Avery's 2007 life sentence for the murder of 25-year-old Teresa Halbach. The murder and conviction were the subject of Making a Murderer, which argued that Avery was  wrongly convicted and may have been framed by local law enforcement. 
Read more:
On granting pardons, Walker has said it was never part of his political agenda. "I just look at [granting pardons] and say that's not really why I ran for office," Walker told the Associated Press in 2013. "It's not what I campaigned on. It's not what I talked about. To me, the only people who are seeking pardons are people who have been guilty of a crime and I have a hard time undermining the actions of a jury and of a court."
For many politicians, pardons are simply too messy a business to get into. "Governors who issue just a few can be seen as unsympathetic; those who grant too many look like they're soft on crime or helping people with connections," the AP's Todd Richmond reported in 2013. "And there's always the chance an applicant who wins a pardon could re-offend, generating negative publicity for the governor."
Making a Murderer's 10 one-hour long episodes document Avery's murder trial, in which his lawyers argued that the Manitowoc County Sheriff's Office framed him for Halbach's murder. Many viewers seem to agree with Avery's lawyers — hundreds of thousands of people have signed recent petitions to pardon Avery. The White House recently rejected a petition calling on President Barack Obama to pardon Avery, as the president has no control over state crimes. 
That leaves Walker as the only government official who can pardon Avery — and the chances are slim to none. The Minnesota Post's Andy Mannix pointed out that Avery's newfound celebrity only hurts his chances with Walker, as the governor rejected a previous high-profile pardon request on the basis that there are plenty of convicts "who probably have a compelling case to be made that we don't know about."
Avery's new defense team may be his final shot at freedom. Criminal appeals lawyer Kathleen Zellner announced Friday that her firm will take over Avery's case along with the legal director of the Midwest Innocence Project, Tricia Bushnell. Zellner's firm "will be assuming the full and complete representation of Steven Avery in all of his pending criminal matters," according to a statement, and "is looking forward to adding Mr. Avery to its long list of wrongful conviction exonerations."