Here's Why January Is Filled to the Brim With Terrible Movie Releases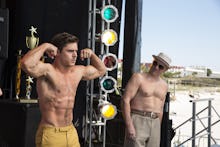 One look at what's headed into theaters the rest of January is enough to keep the most discerning moviegoers away from the cinema for weeks. Michael Bay's 13 Hours: The Secret Soldiers of Benghazi. Ride Along 2. This one called The 5th Wave, the latest in a line of forgettable young adult adaptations. A strange horror movie called The Boy. Finally, of course, there's the sure-to-be Oscar favorite Zac Efron/Robert De Niro film Dirty Grandpa.
Why is the month's slate of films so bleak? Historically, January is known as a "dump month," a term coined by critic Jonathan Bernstein in the Guardian in 2007. Dump months are so named because they're where studios toss all the movies they're not confident will perform in peak season. They're either not prestigious enough to work in Oscar season (October through December) nor noisy enough to be noticed in blockbuster season (summer).
The quality of these movies isn't just subjective perception. The numbers bear it out.
Going by Rotten Tomatoes' composites, wide releases from January 2015 averaged only a 28.4% approval rating from critics. Compare that to June 2015, peak blockbuster season, which averaged a 65.4% rating. November 2015 also rated higher at 56.2%, even though most of the critically beloved Oscar movies from that season were only released in limited theaters.
Metacritic also ran a similar analysis comparing January's average movie scores to the other winter dump months, February and March, from 2000 to 2009. Even compared to the months with similar reputations for their films' quality, January stands out as particularly poor.
So what of movies like last year's Selma and American Sniper, both best picture nominees at the Oscars, and this year's Golden Globe-winning The Revenant? Technically, these movies were all released wide in January, and each enjoys a healthy Rotten Tomatoes score. 
However, they were all originally released in limited runs in December to qualify for the Oscars. This means they're technically 2014 and 2015 movies, respectively, and don't count for January. This can work out financially, though; American Sniper wound up being 2014's highest-grossing film solely based off its box office revenue in January 2015.
Why dump movies in January? Burning off movies is never a wise investment, though rarely are these films conceived with a January death spot in mind. Once studios realize they won't be either prestige plays or box office hits, they're dumped as a way to cut losses. They won't eat into Oscar movies' attention, but they have a chance of making at least a little money when they're not stacked up against big blockbusters.
So yes, the next couple of weeks are going to be rough at the movie theater. Use this time to catch up on this year's Oscar movies. Better titles will be waiting for you in the spring.