Here's How Celebrities and Fans Paid Tribute to David Bowie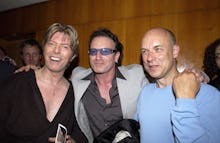 Brian Rasic/Getty Images
On Monday morning, news of 69-year-old David Bowie's death from cancer was announced on his Facebook page. With his innovative sounds and zany style, the British musician, who had 27 studio albums under his belt, was a pioneer for pop and rock music. Because of that, there's been a worldwide outpouring of grief from those mourning his death, starting with a tweet by his son Duncan Jones, whose mother is Angela Bowie. 
Although his wife Iman, who married Bowie in 1992, has yet to address the public about his death, she had posted pictures of Bowie on Facebook and a quote on Instagram.
Read more: 
As soon as the news broke, countless musicians from all genres logged onto social media to pay their respects to Bowie. Saying she was "devastated," Madonna wrote that Bowie had changed her life. Kanye West called Bowie "fearless" and "creative," adding that "he gave us magic for a lifetime." Fellow classic pop star Iggy Pop wrote on Facebook that his and Bowie's friendship was the light of his life, calling him "brilliant." These are only the tip of the giant iceberg. 
Fellow theatrical performer and musician Marilyn Manson published a tribute in Rolling Stone, which recounted how Bowie's music influenced his own life and work. "I was hearing him sing about fiction as a mask to show his naked soul," Manson wrote. "This changed my life forever."
The Beatles' Paul McCartney wrote a short tribute on his blog, which said that Bowie "played a very strong part in British musical history."
Another British music artist Brian Eno, who worked with Bowie on his 1995 album Outside, shared a statement chronicling his last encounter with Bowie, which occurred about a week ago. Eno said the two discussed a possible follow-up to Outside. "It ended with this sentence, 'Thank you for our good times, Brian,'" Eno said. "'They will never rot.' And it was signed 'Dawn.' I realize now he was saying goodbye."
"His death was no different from his life — a work of Art," his longtime producer Tony Visconti wrote on Facebook soon after his death. "He made Blackstar for us, his parting gift." Bowie's latest album Blackstar was released on Friday, his 69th birthday.
Just hours before Bowie's death, a tribute concert titled "The Music of David Bowie at Carnegie Hall" featuring the Roots and Cyndi Lauper was announced for March 31, Rolling Stone reported.  The "Music of" concert is an annual event, featuring a different artist each year. The proceeds of the concert go to the Music Education program.The concert had been in the works for seven months and is meant to honor Bowie's musical legacy, according to the concert's website. 
But upon news of his death, the concert organizers dubbed it a memorial show, promising a "poignant celebration" that will take on "many more emotions." The concert sold out by Tuesday morning, according to the site. 
On Monday night, multiple television hosts, ranging from Jimmy Fallon to Conan O'Brien and Stephen Colbert, took airtime to honor the musician. Fallon called Bowie "one of the greatest" he's ever met, adding that the two would email each other jokes. "So I'm just going to email, you, David Bowie," Fallon said. "And if you can check your email in space, or heaven or wherever you are, you don't have to email me back." O'Brien aired a montage of interviews he had with Bowie throughout the past. Musical guest EL VY covered some of Bowie's songs on The Late Show with Stephen Colbert, Pitchfork reported. 
Fans also went offline to pay their respects by gathering outside Bowie's New York City apartment to leave flowers, candles and notes for the late musician, Gothamist reported. 
Correction: Jan. 12, 2016