Erykah Badu Just Shared a Soul Remix to Kanye West's "Real Friends" — and It's Incredible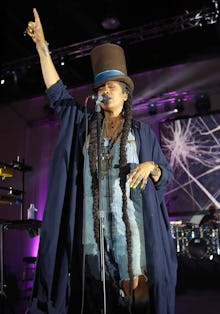 After too long of an absence, Erykah Badu has returned to music with a serious creative fire in her belly. Last October, she broke the five-year silence since her last studio full-length by remixing Drake's "Hotline Bling" into a new cosmic soul track. She did the same with several telephone-themed hip-hop and soul standards, such as Usher's "You Don't Have to Call" and the Isley Brothers' "Hello, It's Me," on November's But You Cain't Use My Phone.
Now it seems she's making a habit out of taking hot hip-hop songs and showing the boys how to sing with soul. On Tuesday she released her latest track "Trill Friends," a remix of Kanye West's "Real Friends," which West released Friday as part of his Good Music Fridays redux. Her remix, subtitled "Badu Whodini Rough Mix," stays true to the original beat produced by Frank Dukes and Boi 1da, but adds all new laid-back vocal lines. They lope over the hazy beat with all of Badu's unique warbling brilliance.
Source: SoundCloud
It seems Badu threw the track together pretty off-the-cuff. "Badu messin round this mornin (really suppose be recording something else...)," she wrote on her SoundCloud, adding she's presently in the "badudio" with Zach Witness, who helped produce But You Cain't Use My Phone. The pair's new track will apparently appear on a whole new forthcoming mixtape called This $h!t Too Easy.
Badu has shared little other information about the upcoming project. In a recent Reddit Ask Me Anything, she suggested it's not exactly out of a desire for secrecy, but more as a means to keep her work free and open to improvisation. She said she never thinks or plans out collaborations, "but when someone comes along with something in my lane I might hop on," she wrote. 
Similarly, she never likes to share her work with others until it's entirely complete.
"I never ask people if they like my work," she wrote on the thread. "It's already done by then. I just wanna know how it makes them feel. What does it inspire them to do. Hopefully if they hate it enough they'll be inspired to protest about it... or do their own."
Depending on when This $h!t Too Easy drops, it will likely be Badu's second mixtape of the year. On Thursday she released a streamable version of her half-hour jazz and experimental hip-hop mix, titled Beats Bees Like for B-Boys and B-Girls. It features music by Sun Ra, Hiatus Kaiyote, Thundercat and Das FX. Stream that via Mixcloud below.