Watch Stephen Colbert Prove He's the Natural Choice to Play El Chapo in a Biopic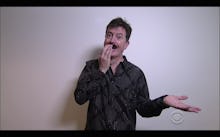 Though the violent capture of Joaquín "El Chapo" Guzmán Loera, resulting in the deaths of five suspects wasn't exactly hilarious, the drug kingpin's success in escaping prison and evading authorities through tunnels is the stuff of cartoon villainy. And if anyone could find the comedy in a grim situation it would be Stephen Colbert. 
On Monday night's Late Show, Colbert took jabs at El Chapo's arrest photo, quipping, "It's a lovely choice, putting him in strong competition with Khalid Sheikh Mohammed for worst arrest fashion choice of all time. At least El Chapo waxed, is what I'll say."
Colbert went on to say how unbelievable it is that authorities were able to use El Chapo's Rolling Stone interview with Sean Penn to track him down. "Note to Edward Snowden," Colbert said, "cancel your sit-down with Nicolas Cage."
Of course, El Chapo had his own reasons for obliging Penn. It turns out it's hard not to brag when your cartel is responsible for 25% of all drugs trafficked to the United States. "Guzmán agreed to a meeting because he wanted ... to make a movie about his lucrative life of drug-dealing," Penn wrote.
And who better to play El Chapo in a potential biopic but... Colbert?
He basically has the entire screenplay written out already.
Still, Colbert said he maintains high aspirations for his breakout role. "I know it's a pretty dark subject matter," he said. "But that does mean we're a shoo-in to win the Golden Globe for best comedy next year."