13 "Hidden" Movies You Probably Didn't Know Were on Netflix But Should Definitely Watch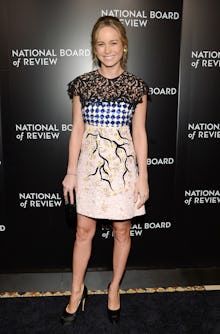 Evan Agostini/AP
Whether it's after a long day at work, waking up on a Sunday morning, staying in on a weekend or however else you use the service, Netflix has a seemingly endless supply of movies to watch. So much so that websites have created cheat codes just to access some of its many wide-ranging genres. Within the enormous clutter, though, are some hidden gems that might not appear at the top of the streaming service's list but are certainly worth a watch.
Snowpiercer 
It didn't garner a lot of attention in the U.S. box office, but Snowpiercer's rave reviews places it in elite company among sci-fi films of the past decade. Set in a dystopian future, the remainder of Earth's inhabitants are living on a train that continuously travels across the globe, with the rest of the world uninhabitable due to devastating climate change. What helps Snowpiercer — and its lead, Captain America's Chris Evans — stand apart is its exploration of the class system on the train cars, with the wealthy taking the bulk of the front of the train and leaving very few resources for the lower classes, who eventually fight back.   
Mr. Nobody
For Jared Leto fans in particular, Mr. Nobody is a must-watch. For everyone else, it's a scientific drama that explores the effects of major decisions in our lives. Leto's character, Nemo Nobody, is the last mortal man on earth after the human race was able to immortalize itself (because science!). The film ventures between Nemo's relationships and life choices as a child, in his 30s and as he approaches death. Leto's at his finest, and the visuals complement his individual performance. 
Battle Royale
Ever wondered what The Hunger Games would be like with a touch of uncensored, gory violence? Look no further than Battle Royale. The film follows a strikingly similar concept, as it pits a group of Japanese teenagers fighting to the death on an isolated island, per the government's annual tradition. Though to be fair, it's not a Hunger Games copycat — it was released eight years before Suzanne Collins' first book in the trilogy. It might not pack the same emotional punch, but it's got plenty of action to make up for less-developed characters. 
Trollhunter 
Set as a "found footage" mockumentary in a similar vein to horror classics The Blair Witch Project and Cloverfield, Trollhunter follows a group of film students who are determined to discover the existence of giant trolls in Norway. The foreign film balances between genuine thrills and encounters with the trolls and subtle, dry humor. In another campy twist, there's also a government conspiracy to cover up the existence of the trolls. 
The Hunt 
Perhaps the only thing holding The Hunt back is picturing Mads Mikkelsen as a kindergarten teacher after his terrifying portrayal of Hannibal Lecter in NBC's Hannibal series. However, that's not to suggest that Mikkelsen doesn't nail the performance of a teacher wrongly accused of abusing one of his students. The result is a town turning against Mikkelsen's character after the charges are dropped, with him losing his closest relationships along the way. 
Sleepwalk With Me
For anybody who has watched Mike Birbiglia's standup, Sleepwalk With Me will follow a similar tune. Birbiglia essentially plays himself, and humorously explores the decisions he faces in his relationships and his career. As it turns out, he's a struggling comedian, and as the pressure mounts, he begins to experience extreme sleepwalking episodes. Ironically, these same pressures help turn his life around. 
Short Term 12 
Before Brie Larson captured a much-deserved Golden Globe for her performance in Room, she hadn't had many mainstream movie hits. However, that performance wasn't a one-hit wonder. Larson plays a foster care counselor in Short Term 12, who invests so much time into the troubled children who come through her doors that she doesn't focus on herself or her relationship with her boyfriend, played by The Newsroom's John Gallagher Jr. Both leads complement one another well in this gripping and emotional drama. 
Blue Ruin
Sometimes a simple premise that's executed well is just enough to make a film work. Blue Ruin is a straightforward tale of revenge, as a man who has lost his family learns that their murderer is being released from prison. Though the concept is basic, the film thoroughly examines the depths of revenge and the emotional and psychological toll of a relentless killing streak on a man with nothing left to lose. 
Super 
Super has a lot of good things going for it. First, it's directed by Guardians of the Galaxy's James Gunn, and has a similar campiness to the Marvel movie. However, it's more closely related to the Kick-Ass franchise in its deadpan rendition of how a superhero would actually function in society. Watch Super and you'll fall in love with Rainn Wilson's portrayal of superhero "The Crimson Bolt," and Ellen Page as his trusty sidekick "Boltie."
Frank
If Michael Fassbender wearing a papier-mâché mask over his head the entire movie doesn't qualify as weird, what does? Fassbender plays the titular character Frank, whose experimental band is immensely talented, albeit unknown. However, when a new band member played by Star Wars: The Force Awakens' Domhnall Gleeson aims to promote the group toward a money-driven goal, it'll challenge Frank — and his mask — in more ways than he expects.
A Girl Walks Home Alone at Night 
It's quite likely that A Girl Walks Home Alone at Night is the only movie that can be classified as an "Iranian Vampire Romance-Thriller" — one of many reasons why the film is a unique viewing experience. The movie is also captured entirely in black and white, except for the splashes of red that you'd come to expect from a thirsty vampire. A Girl Walks Home Alone at Night will captivate viewers with its stunning visuals and an equal parts beautiful and menacing female lead. 
Dead Snow
When asked by Under the Radar how he came up with the idea the idea for Dead Snow, director Tommy Wirkola said, "I wanted to make a zombie film. We knew we wanted to make them unique." Essentially, Dead Snow pits a group of friends against a horde of Nazi zombies, and the bodies certainly roll. According to Wirkola, "they're twice as evil. Nazis and zombies." 
In a World ... 
In a world where a film decided to follow around the people who do the voices for movie trailers, In a World ... stands wholly unique in its concept. Lake Bell stars, writes and directs the film, which follows her character as the daughter of a famous voiceover actor who hopes to break into the industry as a woman — a theme that easily transcends the voiceover field.