SOTU 2016 Livestream and Other Ways to Watch President Obama's Last Address Online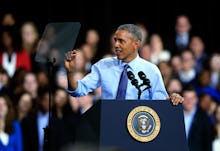 Jamie Squire/Getty Images
President Obama is gearing up for his seventh and final State of the Union address, which he will deliver in front of a joint session of the U.S. Congress this Tuesday, Jan. 12, at 9 p.m. Eastern. 
And this year, the SOTU will be more accessible than ever — the entire address will be livestreamed on the White House's website and on the official White House YouTube channel.
The White House also officially launched its Snapchat account this week in preparation for the SOTU, and there will likely be some SOTU-related updates on the White House Twitter and Instagram during the address Tuesday evening.
The White House is also teaming up with online-annotation platform Genius to offer annotated versions of past State of the Union addresses, featuring contributions from Obama's speechwriters and some selected submissions from the public.
All-in-all, this year's SOTU is shaping-up to be the most internet-accessible address yet.