'Views From the 6' Is On the Way, But Here's Some of the Best New Music While You Wait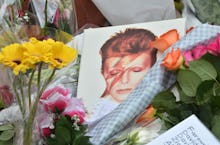 Jim Dyson/Getty Images
Fans awaiting Drake's upcoming album Views From the 6 continue to twiddle their thumbs. Drake has been teasing fans about the album for quite some time now on social media and in a September interview with Fader, he said the album would be released "imminently."
Rumors swirled that the Canadian rapper was going to drop what would be his fourth studio album sometime in early January, while many fans hoped it would be a surprise New Year's release. Earlier this week, Drake's longtime producer Noah "40" Shebib posted a photo of a computer file named "VIEWS" on Instagram, as if hinting that the album was finally completed and ready for release, BET reported. 
As of Tuesday afternoon, nothing had surfaced, but Drake did post a photo of himself in the studio on Instagram on Monday. 
Read more:
But music lovers ready to jam out to new tunes have plenty of other options. Artists like Sia, the late David Bowie and Jeremih have recently released music to help smooth over the big hole Views From the 6 has caused in everyone's heart. 
Below are the top six new releases in music that are well-worth a listen:
1. Blackstar by David Bowie
Just days before his death, David Bowie released Blackstar on Jan. 8, which was also his 69th birthday. In this album, Bowie — who is known for being a genre-chameleon and innovator — draws from jazz and funk sounds created by saxophones and flutes, the New York Times reported. The album, with its haunting release date, was also noted to have an ambience of death, through songs like "Lazarus," which mentions heaven.
2. "Reaper" by Sia
Last week, Sia released an empowering track song titled "Reaper," which will appear on her Jan. 29 album This Is Acting, Rolling Stone reported. In December, Sia shared that she was working with Rihanna, but that the Barbadian singer chose only four of Sia's 25 songs that were up for grabs. That's fine though, because Sia's own voice rumbles in the upbeat pop song, which makes the anticipated album date seem pretty far away from now. 
3. Beats Bees Like for B-Boys and B-Girls by Erykah Badu
In November, R&B singer Erykah Badu went on Beats 1 Radio to debut an eclectic but catchy mixtape that used cuts from indie band Hiatus Kaiyote and jazz composer Sun Ra, Consequence of Sound reported. The 30-minute mixtape went live on Mixcloud earlier this week from Badu's account. The singer was on a five year hiatus up until last October, and has been on a releasing roll ever since.  
4. A New Place 2 Drown by Archy Marshall
British artist Archy Marshall released his debut album 6 Feet Beneath the Moon under the name King Krule in 2013, Pitchfork reported. In December, Marshall released A New Place 2 Drown, which is actually three creative projects: an art book, the album and a short film. Marshall is heavily influenced by 90s hip-hop, which is apparent in the album, accompanied by electronic beats. 
"His sound is more three-dimensional, a series of shrouded corners and murmured conversations," Pitchfork reviewer Jayson Greene wrote of the album. "This is wandering, grey-skies music, finding pleasure and even sensuality in solitude."
5. Late Nights: The Album by Jeremih 
"Birthday Sex" singer Jeremih released his third Late Nights: The Album in November. With its low and dreamy beats, "It is a purgatory in the best sense, a retreat from reality for discerning hedonists," Pitchfork reviewer Meaghan Garvey wrote. Spin compared it to being "caught in club lights and then just darkness," adding that it could establish Jeremih's name in the R&B world. 
6. "Just in Case" by Ellie Goulding
Source: Soundcloud
Singer Ellie Goulding is a staple in the pop world, but has stepped over into the electronic world with Calvin Harris, and the R&B field, having covered the Weeknd's "High for This." On Jan. 5, Goulding dropped a cover of Jaheim's 2001 "Just in Case" via Soundcloud. "With the help of producer Jordan Evans, Goulding swaddles the update in springy keyboards and her breathy, punctuated vocals," Spin wrote. Maybe she'll perform this track at Coachella. 
Correction: Jan. 12, 2016