George Miller Reportedly Says He "Won't Make More 'Mad Max' Movies"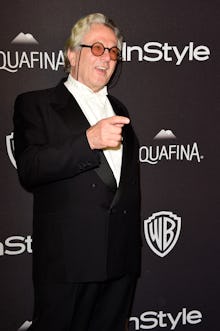 George Miller won't be returning to the Thunderdome any time soon — or ever, if he has his way.
The director of Mad Max: Fury Road reportedly told Page Six at the Golden Globes that he's done making any Mad Max movies. "Fury Road with Charlize Theron, Zoë Kravitz, Rosie Huntington-Whiteley and Riley Keough was forever getting completed," he said. "If you finish one in a year, it's considered a leap of faith. Start, stop, start again."
Mad Max: Fury Road notably had a very troubled production. The 2015 hit film was first scheduled to shoot in 2003 but was delayed several times over due to weather, cast changes and even war. It's no wonder Miller is tired.
"I've shot in Australia in a field of wild flowers and flat red earth when it rained heavily forever," he reportedly continued. "We had to wait 18 months and every return to the U.S. was 27 hours. Those Mad Maxes take forever. I won't do those anymore."
Miller is singing a notably different tune than when Fury Road first came out. He said he had plans for two separate sequels, one focusing on Theron's breakout character, Furiosa, and the other, more officially titled Mad Max: The Wasteland.
Those sequels could continue on without Miller, of course, and he's said he's fine with that idea. But considering Fury Road's massive success under Miller's direction (both critically and commercially), it'd be a shame to see the franchise switch hands so quickly.
Meanwhile, Miller's story with Fury Road is not yet complete. He's a likely nominee for best director at the Oscars — and could even win. Perhaps a golden statue would make suffering through the shoots worth a trip back into the Mad Max universe.