Who Are the YouTube Stars Asking Questions at SOTU and Why Were They Chosen?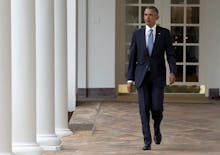 Carolyn Kaster/AP
After President Barack Obama delivers his seventh State of the Union address on Tuesday, he will sit down for a series of three interviews, the nature of which is perhaps a sign of the changing way the commander in chief engages with America's youngest voters. Three YouTube personalities, Destin Sandlin, Ingrid Nilsen and Adande "Swoozie" Thorne, will have about 10 to 12 minutes of the president's time to conduct interviews following his final SOTU speech.
"Over the years, the President has answered your questions about the economy, health care, climate change, foreign policy, and social justice issues," a statement from the White House explained. "He's answered your top-voted YouTube questions from the Library and the Diplomatic Room, joined a Google+ Hangout from the West Wing, held the first-ever virtual fireside chat, hit the road on a virtual road trip across America, and sat down with some of your favorite YouTube creators in the East Room. This year after the speech, leading YouTube creators will ask President Obama the questions that are top of mind for them and their fans."
Read more
Here are the YouTube stars busy practicing their questions for the president. 
Swoozie
Florida vlogger Swoozie is an "professional cuddler," "time traveller," and pro gamer who aspiring aspires to work in film, according to his YouTube's about page. Swoozie has more than 3.5 million followers. "We're going to the White House," Swoozie tells viewers in one of his YouTube videos. "Apparently Obama binge watches my videos."
Destin Sandlin
"I'm a Husband, a Father and [a] full-time Engineer," Sandlin says on his website. "Several years ago I made a video to show my friends how to light a bonfire with rockets. They enjoyed my teaching style so I kept making videos." The purpose and the mantra of Sandlin's videos are to get "Smarter Every Day." Here's Sandlin's page, which to date has more than 3.5 million subscribers. 
"The interview is framed as a response to the State of the Union address," Sandlin explains in a YouTube video which details the upcoming interview.
Ingrid Nilsen
California native Nilsen is a 26-year-old lifestyle blogger and something of a self-made LGBTQ activist after coming out on YouTube to her nearly 4 million viewers. Her channel is "a place for curious minds and adventurous hearts," according to her YouTube about page. 
That the president would entertain questions from vloggers signals the changing ways America's leaders are choosing to reach the public, which today is largely through digital channels. And to reach younger demographics, those channels are inherently social. Likewise, the White House's press push leading up to the SOTU has leaned heavily on social media to promote short-form videos of the president and the events surrounding Tuesday's speech. To that end, the White House activated its first official Snapchat account on Monday, and will be using the platform to push content during Tuesday night's address.