A Report Raising Concerns About Water Contamination in Flint, Michigan, Was Buried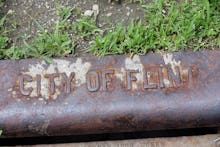 "This damage to children is irreversible," Mayor Karen Weaver of Flint, Michigan, wrote when she declared a state of emergency Dec. 14, after discovering dangerously high levels of lead in the city's water. Then, on Jan. 6, Michigan Gov. Rick Snyder followed suit.
Twenty-one months earlier, Snyder opted to switch Flint's water source from the Detroit water system to the Flint River in as a cost-cutting measure. But shortly after the April 2014 change, residents started to voice concerns about brown tap water, hair loss and skin rashes.
At first, local and state governments didn't take these complaints too seriously. Aside from offering free water filters and assurance the tap water was, in fact, safe, the government did little else.
But the complaints only swelled. And last summer, when whispers about water lead levels finally reached Snyder's office, the governor's chief of staff, Dennis Muchmore, reached out to Michigan's health officials, according to the Associated Press. 
"I'm frustrated by the water issue in Flint," Muchmore wrote, according to the Associated Press. "I really don't think people are getting the benefit of the doubt. These folks are scared and worried about the health impacts and they are basically getting blown off by us (as a state we're just not sympathizing with their plight)."
As a response, the state health department sent a report from a previously conducted study of Flint's tap water. The department opted not to send over a second study that indicated the water supply was increasing levels of lead in residents' blood, according to Detroit Free Press. 
And in September, Flint's Hurley Medical Center published another damning analysis of the water, entitled "Pediatric Lead Exposure in Flint, MI: Concerns from the Medical Community." And officials started to get jittery. By Oct. 8, Snyder announced a switch back to the Detroit water system.
But the damage was already done. 
"Lead is highly toxic, especially to young children," the Centers for Disease Control and Prevention writes on its website. "It can harm a child's brain, kidneys, bone marrow and other body systems. At high levels, lead can cause coma, convulsions and death."
Not long after the switch, some Flint residents filed a class-action lawsuit against those involved, including Snyder and the state of Michigan.
The lawsuit alleged those complicit in the crisis imposed "serious personal injury" by exposing residents to "the extreme toxicity of water pumped from the Flint River into their homes, schools, hospitals, workplaces and public places."
For now, the city is funneling more than $10 million into its emergency response, which includes the distribution of thousands of water filters. The Federal Emergency Management Agency already sent 2,800 liters worth of bottled water in December. 
But it's going to take more than a Band-Aid to make it up to the people of Flint who now can only wait to see the degree to which the government's actions — and, some argue, its inactions — have upended their lives. 
As Rhonda Kelso, Flint resident and a plaintiff in the lawsuit, told CNN, "You're paying for poison. I'm paying for water that's a toxic waste."