Jeb Bush Won't Let Marco Rubio Live Down His Shiny High-Heeled Boots in New Attack Ad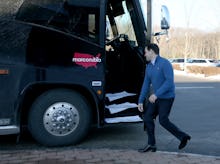 Mary Schwalm/AP
Most everyone is done tormenting Florida Sen. Marco Rubio about those shiny high-heeled booties he wore to a recent campaign event — everyone except former Florida Gov. Jeb Bush, whose Super PAC released a Rubio attack ad taking the boots banter to ridiculous new heights. The video features an animated Rubio dancing  in the same stylish ankle boots that made several headlines last week. 
The minute-and-a-half-long ad features someone apparently dressed as Rubio dancing in boots to "These Boots are Made for Flippin'," a parody of Nancy Sinatra's "These Boots are Made for Walkin'," about Rubio's alleged tendency to flip-flop in politics. "You keep spinnin' when you oughta be truthin'/ You keep flippin' when you shoulda not flop," the lyrics read. 
Read more:
Rubio's boots made headlines last week after a New York Times reporter tweeted a picture of him wearing unusually fashionable boots, a photo that soon went viral. "A Vote for Marco Rubio Is a Vote for Men's High-Heeled Booties," New York Magazine's headline read. Elle's Mattie Kahn compared Rubio's boots to a pair One Direction frontman Harry Styles is often caught sporting in paparazzi photos. 
Bush's attack on Rubio isn't random — the two GOP presidential candidates have clashed throughout the primary race. Once allies, the two Floridians have butted heads at several debates. During the October CNBC debate, Bush told Rubio he should resign over his recent absentee record at Senate votes, a jab Rubio said Bush wouldn't have made when the two worked together in Florida. "The only reason why you're doing it now," Rubio responded, "is because we're running for the same position and someone has convinced you that attacking me is going to help you."