SCOTUS Just Ruled Florida's Death Penalty Sentencing Protocol Unconstitutional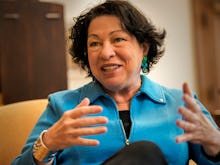 In an 8-1 decision Tuesday, the U.S. Supreme Court ruled Florida's death sentencing in violation of the Sixth Amendment. Florida's protocol allowed judges to overrule a jury's verdict, acting as the final arbiters of the death sentence. 
The Sixth Amendment guarantees the right to an impartial jury, which Justice Sonia Sotomayor upheld when she delivered the court's decision in Hurst v. Florida in October. Justice Samuel Alito was the sole dissenter. In the case, a Florida jury convicted Timothy Hurst, then 19, of first-degree murder for the 1998 killing of his manager at a Popeyes restaurant in Pensacola, and recommended the death sentence. According to the official court document, Hurst appealed the decision only for the jury to deliver the death sentence again, which the judge decided to sustain. 
Despite the fact that the judge's decision coincided with the jury's decision, the suggestion that a judge has any veto power is unconstitutional. Sotomayor called the process employed during Hurst's trial a "hybrid" proceeding, where the jury's verdict is only given the weight of a recommendation. 
"Florida law required the judge to hold a separate hearing and determine whether sufficient aggravating circumstances existed to justify imposing the death penalty," Sotomayor wrote. "We hold this sentencing scheme unconstitutional. The Sixth Amendment requires a jury, not a judge, to find each fact necessary to impose a sentence of death. A jury's mere recommendation is not enough."
According to the Wall Street Journal, Florida is the first of four states to have death penalties proceedings reviewed by the Supreme Court, which has been hearing arguments on capital punishment cases in Georgia, Kansas and Pennsylvania. 
Though the death penalty rate is on the decline in the United States, none of these Supreme Court cases will seek to outlaw it completely.