The Big Problem With Clinton's Attack on Bernie Sanders' Single-Payer Health Care Plan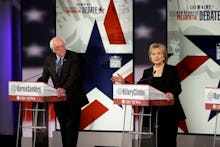 As polls show Sen. Bernie Sanders (I-Vt.) erasing Hillary Clinton's lead in Iowa and maintaining a healthy edge in  New Hampshire, the former secretary of state is slamming Sanders from the right over his plan for a government-funded universal health care system.
Campaigning in Ames, Iowa, on Tuesday, Clinton indicated that she'll be attacking Sanders from multiple fronts as the Feb. 1 caucuses approach, after homing in on Sanders' gun control record in recent appearances. Clinton, who spearheaded an unsuccessful push for health care reform as first lady in 1993 and 1994, was particularly scathing in her assessment of his single-payer health care proposal.
The attack: Touting her support for the Affordable Care Act, President Barack Obama's landmark health care reform law, Clinton told voters in Ames that Sanders "has a different idea," Politico reported.
"He wants to roll Medicare, Medicaid, the children's health insurance program, the Affordable Care Act program and private health insurance into a national system and turn it over to the states to administer," she said.
In a pointed jab at Sanders' call for a "political revolution," Clinton added, "If that's the kind of revolution he's talking about, I am worried, folks. I think that would be a big problem."
Clinton's objection centers on ostensible concerns that by requiring states to administer their own single-payer systems, Sanders would leave residents of Republican-governed states behind. It makes intuitive sense: As the Kaiser Family Foundation documents, 16 states have so far not accepted federal funds to expand Medicaid, the government-run health insurance program for low-income people, under the Affordable Care Act, while 27 states have not set up their own health exchanges, sending consumers to the federal exchange instead.
Given that experience, it's unsurprising that you might see big risks in a single-payer scheme that calls for states to carry out reform.
The problem: But that concern is addressed by Sanders' single-payer bill, as Ryan Cooper notes at the Week. The Vermont senator's plan would have the federal government run any state-based system that fails to meet national standards.
Say Gov. Sam Brownback (R-Kan.) refused to implement a single-payer system in the Sunflower State. That doesn't mean that Kansans would lack health care coverage; they'd simply "receive coverage from the feds," as Sanders campaign policy director Warren Gunnels told Cooper.
But that hasn't stopped the Clinton orbit from targeting Sanders' Medicare-for-all solution.
"Senator Sanders wants to dismantle Obamacare, dismantle the [Children's Health Insurance] program, dismantle Medicare and dismantle private insurance," Chelsea Clinton told voters in New Hampshire Tuesday, per NBC News. "I worry if we give Republicans Democratic permission to do that, we'll go back to an era — before we had the Affordable Care Act — that would strip millions and millions and millions of people off their health insurance."
The Sanders campaign is pushing back against the Clinton onslaught.
"It is time for the United States to join the rest of the industrialized world and provide health care as a right to every man, woman and child," Sanders spokeswoman Arianna Jones said in a statement Tuesday. "A Medicare-for-all plan will save the average middle-class family $5,000 a year. Further, the Clinton campaign is wrong. Our plan will be implemented in every state in the Union regardless of who is governor."
A risky attack: There's plenty of reason to doubt just how Sanders could pass a sweeping single-payer plan when Republicans are overwhelmingly likely to still control at least the House of Representatives after the November elections. But the Clinton campaign's case against Sanders' proposal isn't that it's unfeasible. It's that it's undesirable. Yet a recent Kaiser Family Foundation poll found that 58% of the public favored making Medicare available to all Americans.
What's more, Gallup data shows that patients covered by Medicare or the Veterans Affairs department (which Sanders' bill would preserve) are more satisfied with their coverage than Americans covered by private health insurance plans. 
For Clinton, then, attacking single-payer is a politically risky proposition — particularly when her hold on the Democratic electorate appears increasingly tenuous.