Tinashe 'Joyride' World Tour: Dates, Cities and How to Buy Tickets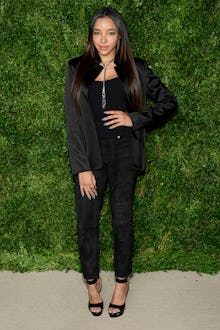 Andrew Toth/Getty Images
On Tuesday, 22-year-old R&B artist Tinashe announced the dates for her upcoming world tour. The dancer, actress and former model, who is a Lexington, Kentucky, native, will hit the road at the end of February for the U.S. leg of the tour and make her way over to Europe in April. The last show of the world tour will be held on May 26 in Northbridge, Australia. 
The tour is named for Tinashe's upcoming sophomore album, Joyride. Tickets for the first part of the tour will go on sale Jan. 15, according to the artist's website. 
Read more:
Tinashe reiterated the announcement with a post to Instagram, which the artist captioned, "I'll take you on the ride of your life ... #Joyride." 
Tinashe has released one studio album to date, 2014's Aquarius, in addition to a number of mixtapes. "I feel like I've been working really hard this year at developing a fan base, a touring base," Tinashe said in a Sept. 2 interview with Rolling Stone. "I'm continuing to grow, but you always feel like you're a little bit underappreciated, undervalued. Especially for me, it's exciting to have new music and to give people a chance to rediscover me again."
Tour dates: Tinashe will begin her world tour in Reno, Nevada, and travel east to hit shows in Minneapolis, St. Louis, Chicago and Detroit before crossing the border into Canada for shows in Toronto and Montreal. The artist will then continue her tour with shows scheduled at various locations along the East Coast. Tour dates in the South and on the West Coast will then follow, before Tinashe hits Vancouver, Canada, and hops the pond to begin the European leg of the tour, which opens with a show in Copenhagen, Denmark, on April 26.