'Making a Murderer,' 'Serial' and the Best True Crime Stories to Binge on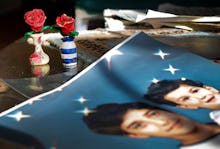 Patrick Semansky/AP
Whether it's in the form of a film, television show, book or — most recently — podcasts, true crime stories have captivated a large audience, and for good reason. As mystery writer Walter Mosley wrote for Newsweek, our deep-seated interest in crime stories resonates in our need for forgiveness, and to find someone to blame for our collective guilt. "We are fascinated with stories of crime, real or imagined, because we need them to cleanse the modern world from our souls," Mosley wrote.
From the heartbreaking, crime-ridden life of Steven Avery in Wisconsin to the investigative hypothesis on the real identity of Jack the Ripper, true crime addicts have a lot of compelling and wide-ranging stories to binge on. 
Making a Murderer
The Netflix Original should come with a warning label, because once you start Making a Murderer, it's really, really hard to stop. The 10-part series follows the story of Steven Avery, who initially spent 18 years in prison for a crime he didn't commit before being sentenced for another murder despite questionable evidence. Most of all, Making a Murderer challenges the American perception of the justice system and its potential for corruption on several legal levels. 
The Jinx: The Life and Deaths of Robert Durst
In many ways, HBO's six-part documentary series The Jinx: The Life and Deaths of Robert Durst works as an antithesis to the story of Making a Murderer. Instead of supporting a man being set free, audiences will likely lament as real estate heir Robert Durst continuously evades what appear to be open-and-shut-cases for murder. However, the best part of The Jinx is director Andrew Jarecki's sit-down interviews with Durst after the fact. Without giving too much away, the interviews lead to a disturbing, yet exciting, conclusion. 
Dear Zachary: A Letter to a Son About His Father 
Dear Zachary: A Letter to a Son About His Father easily falls into the "truth being stranger than fiction" category. When Dr. Andrew Bagby is murdered, the chief suspect in the murder case — who he had previously broken up with — flees to Canada and announces that she's pregnant with his child. In the aftermath, one of Babgy's best friends, filmmaker Kurt Kuenne, decides to create a documentary to highlight Bagby's life for his son, Zachary. The documentary is an emotional rollercoaster, and one that you'll be hard-pressed to forget. 
Serial 
Anybody new to the podcast medium might as well start with one of the most popular podcasts in history. With Serial, co-creator and host Sarah Koenig deeply investigates a murder in the span of a season (season two is currently underway) and those involved. Season one detailed the murder of Hae Min Lee, a crime that her ex-boyfriend, Adnan Syed, was — perhaps wrongly — convicted of. Without expounding the plot further, Serial''s first season was a captivating hit, one that even may leave some semblance of justice by the time it's finished. 
Here Be Monsters 
Tackling one's self-imposed fears is a tall order, but that's exactly what Here Be Monsters podcast creator Jeff Emtman did. "It's a big world out there and it's easy to populate it with demons and beasts and baddies trying to kill you," Emtman said in an interview with the Guardian. "I don't ever struggle for stories. I think everyone is afraid of things." As such, Emtman's podcast is wide-ranging, covering the likes of rituals, real-life tragedies and conspiracy theories. While all of them might not instill the same amount of fear, the stories themselves are still worth a listen.    
Zodiac
One of the greatest unsolved mysteries in American history, nobody can say — concretely — who the Zodiac Killer was, and whether he could even be alive today. It was a complex case in California, but director David Fincher does an excellent job laying out all the facts in his 2007 film, Zodiac. What makes Zodiac so effective is that its scenes are entirely based on what the people surrounding the case definitively know. Therefore, the actual encounters with the killer are few and far between. The realism might not suit all audiences, but it's executed in typical, gripping Fincher fashion. 
Portrait of a Killer, Patricia Cornwell 
Though most of crime author Patricia Cornwell's books are fiction, she ventured into the legend of Britain's most notorious serial killer, Jack the Ripper, in Portrait of a Killer. The title of the book works as a clever pun for her theory that the famed murderer was British painter Walter Sickert. While any present-day theories on Jack the Ripper must be taken with a grain of salt, the evidence is — at the very least — presented in a compelling manner.
Homicide: A Year on the Killing Streets, David Simon 
David Simon is well-known for creating HBO's critically acclaimed crime series, The Wire, but Simon was also a Baltimore-based crime reporter and published author, whose best work may be Homicide: A Year on the Killing Streets. The book details Simon spending a full year with homicide detectives in Baltimore's police department, and much like The Wire, there's a lot of violence to detail in the crime-ridden city.