How to Use Uber's "Trip Experiences" — and How to Avoid It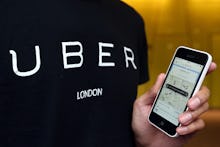 Carl Court/Getty Images
Ride-sharing giant Uber announced "Trip Experiences" Tuesday, an update that Uber says will allow third-party apps to customize the user's experience based on their location and trip duration while riding. Users can choose from options like 10 minute playlists for 10 minute rides, five-minute news briefs for five-minute rides, or opt out if they're not feeling it. 
"Today we're excited to announce the launch a new developer feature called Uber Trip Experiences which connects riders with their favorite apps at the start of a trip when they may have some time to spare," Uber said in a blog post introducing the feature, adding that riders will "need to give permission before any app can connect to Uber and access their trip details."
Read more:
Uber riders have to accept an app's request to connect to Uber's API before they can push activity options on the user. If the user accepts, apps may ask questions about their trip, like if they're almost at their destination and where they're headed, before it suggests activities. 
Uber advertises options like turning the heat on before Uber users arrive at their home or providing restaurant recommendations based on location. According to the company, Uber will prohibit app developers from pushing advertisements, but that doesn't mean a content-streaming app can't play its obligatory ad before streaming its feature video. 
"The point of this experience to provide added value to a user not irritate them," an Uber representative told the Verge. "Because we require all apps to be whitelisted with us, we will be able to ensure the user experience is a positive one." This Trip Experiences tutorial for app developers provides an idea of what they can and can't do with the new feature.
When Uber opened its API to third-party apps last year, apps that took advantage of it saw an average 11% increase in user engagement, the Verge reported. Uber's 2015 integration with Facebook Messenger allowed users to request and track rides without exiting the app.