Writer Snaps Back After GOP Uses His Image in Snapchat Promo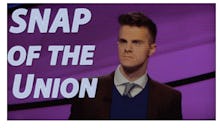 Oh, snap? More like No, snap!
Louis Virtel, an entertainment journalist from Los Angeles, told Mic he was "horrified and borderline traumatized" Tuesday after finding out House Republicans were using his image to promote their Snapchat counter-coverage of the State of the Union address, which begins at 9 p.m. Eastern on Tuesday.
"Hey, GOP! Your candidates are horrifying garbage who've done nothing for LGBT rights. Don't use my image," Virtel, who is gay, tweeted after someone tipped him off to the #SnapOfTheUnion promo page.
The page uses a GIF of a memorable moment in Virtel's 2015 appearance on Jeopardy! where he snapped his fingers after a response:
"To see my image there on that page was, at first, kind of funny," Virtel said. "Then the reality set in, and I was just horrified and borderline traumatized."
Virtel said in a phone interview that he considers the Republican Party a major purveyor of homophobia — so "the fact that they couldn't read [my] staunch gayness in that GIF is even more evidence of their insane ignorance."
"I'm still literally shaking — on the phone with you, I'm shaking," said Virtel, an editor with HitFix and a comic, not to mention a serious trivia lover.
Their shame, not his: The House Republicans didn't immediately respond to a request for comment about Virtel, who said the GOP should be "ashamed" to use his image when so many of its members oppose policies he strongly considers anti-gay.
"When it comes to a political event and when it comes to something that is so egregiously, nearly violently opposed to what I believe in, I believe that I have a right to say, 'I think this is disgusting,'" Virtel said.
Virtel's complaint certainly isn't the only aspect of President Barack Obama's final State of the Union speech to touch on issues of sexual orientation and equality.
Eyebrows went up Monday after reports that Kim Davis, the Kentucky clerk who famously refused to issue marriage licenses to same-sex couples, would be attending the event — as is Jim Obergefell, the plaintiff in the landmark case that legalized gay nuptials nationwide.
Asked if he expected the House Republicans to apologize, Virtel cranked up the sarcasm.
"Could they apologize for ruining gay peoples' lives?" he said.