El Chapo's Shirt Is Selling Out, Because Fashion Inspiration Really Can Come From Anywhere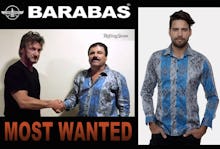 If any naysayers questioned the importance of what we wear, here's a news update for you: Apparently, the shirt that El Chapo was wearing when he was photographed with Sean Penn is selling out.
TMZ did some on-the-ground reporting in Los Angeles and discovered that El Chapo's silky blue shirt is for sale at Barabas, a men's clothing store that appears to specialize in printed button-downs, colorful blazers and other stylish duds for men about town.
Sales for the shirt are apparently through the roof. The store manager told TMZ "sales skyrocketed" and their website crashed when photos of El Chapo with Sean Penn, who interviewed the drug kingpin for Rolling Stone, hit the internet.
Barabas also carries the shirt that El Chapo, aka Joaquin Guzmán Loera, was wearing in a video he made for Penn, a brighter aqua button-down with an all-over paisley print.
Barabas is making no secret about the recently caught drug lord wearing their shirts; in fact, the retailer is flaunting the connection on its website and over social media, where you can also find links to buy the shirts yourself. The Sean Penn shirt is actually selling for $128 on Amazon, a pretty penny for most regular shoppers (but not for a man with a reported net worth of $4 billion).
Mic reached out to Barabas for comment and will update when we hear back. But it would appear that a very unexpected style moment is boosting sales for one lucky Los Angeles store — and a reminder to us that you really can find fashion inspiration anywhere. Who needs style bloggers and magazines?
h/t Time