Your Queen Viola Davis and Her Amazing Hair Just Landed a Major Fashion Magazine Cover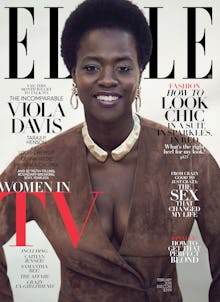 Viola Davis fans (i.e. every decent person on this planet): It's your lucky day. 
The How to Get Away With Murder powerhouse actress has landed the cover of a fashion magazine. And she  looks downright wonderful. 
Can you even take it? Can you even stand the glamour? Davis is one of five women gracing an Elle cover this month for the February 2016 issue that honors women in TV. The other actresses include Priyanka Chopra, Julia Louis-Dreyfus, Olivia Wilde and... wait for it... Taraji P. Henson. We know! We know. 
But first: Look at Davis' spread. 
*Buys all the camel suede trenches* 
OK, now here's Henson's cover:
We are out of breath. Those pins! That jacket! 
Now for her solo shoot: 
This is all we can muster: 
Well, it's not all. Also of note is Davis' hair, which she's chosen to wear natural on the cover. It's not the first time we've seen Davis' hair — in fact, the actress made a point to wear her hair natural during the 2015 awards show season, including at the Emmys and Screen Actors Guild Awards, as well as at the 2012 Oscars. It was an active decision, she told InStyle.
"Sergio, who does my makeup for How to Get Away With Murder, said, 'Viola you should wear your natural hair [for the Emmys]," she recalled. "'If you win and your daughter looks back at that moment, it would be so powerful if you wore your hair. If you really looked like you.'"
That powerful moment has been happening more and more. This past year was a big one for the natural hair movement, with model Maria Borges rocking the look at the Victoria's Secret Fashion Show for the first time ever and young women like Amandla Stenberg (who recently covered Teen Vogue with an afro) singing natural hair's praises. Taraji P. Henson, Davis' Elle cover co-star, wore her hair natural in an October 2015 fashion shoot for CR Fashion Book; in an Instagram caption alongside the photo, she proudly announced #IAmNotMyHair.
We agree — and we hope this is the beginning of the end of being so surprised to see women with natural hair slaying on fashion magazine covers. Between Davis, Henson and Stenberg, we're ready for it to be the norm.