The Newest Incarnation of Nancy Drew Will Be Older and Nonwhite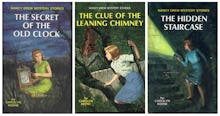 The traditional image of famed girl detective Nancy Drew as a fair, titian-haired teenager is in store for a major update.
CBS is developing a TV reboot starring the feminist icon, and CBS president Glen Geller on Tuesday shared a revelation that makes it clear the actress who wins the part will not be cut from the same cloth as every other iteration. "She is diverse, that is the way she is written," Geller told the Hollywood Reporter.
"[She will] not [be] Caucasian," he said. "I'd be open to any ethnicity."
Announced in October, the upcoming series itself represents a shift for the Nancy Drew universe. It's expected to take on a more contemporary focus, and will reportedly feature a 30-something Drew who now uses her talents as a detective for the New York Police Department. According to the Hollywood Reporter, the upcoming drama will follow Nancy as she "investigates and solves crimes using her uncanny observational skills, all while navigating the complexities of life in a modern world." 
Nancy Drew was born as a literary character in the 1930s and has churned through several updates since then. Aside from a number of book series spinoffs, there was the 1970s TV series The Hardy Boys/Nancy Drew Mysteries, which starred Pamela Sue Martin as the titular female character. There were the four movies made in the 1930s starring Bonita Granville. Finally, of course, there was the 2007 cinematic adventure (of questionable quality) starring Emma Roberts.
Yet as Refinery29 points out, there has yet to appear a definitive, modern update — on-screen or off — to the original book series. Now, however, we may finally have a contender for that title.
CBS has made diverse casting a priority of late. Last fall, they added television's second current superhero series with Supergirl, a DC Comics-based show about Superman's cousin.
"We have a lot of new series in development, both series targeted to have full African-American or Latino casts but also many leads that are being developed [as diverse]," Geller told the Hollywood Reporter Tuesday.
Of course, while some are celebrating Nancy's newest update, it's almost guaranteed CBS will see some blowback for a decision that takes a "traditional" character (read: white or male) and tries something different. Just take the reactions to news of a female Thor, or the all-female reboot of Ghostbusters, or Michael B. Jordan's casting as Johnny Storm in the latest Fantastic Four movie.
Happily, however, Geller and company seem unconcerned about the potential backlash, which is particularly welcome given past — and very relevant — criticism of the original Nancy Drew books' treatment of race and culture. 
"We're not casting colorblind," Geller told the Hollywood Reporter. "We're casting color conscious."