'Teachers' Katy Colloton Explains Why It's a Great Time for Women in Comedy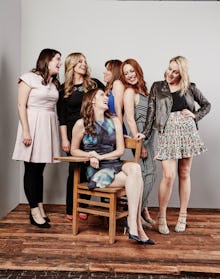 Maarten de Boer/Getty Images
Coming off of the year that gave us female-driven comedy blockbusters Spy, Pitch Perfect 2 and Trainwreck, and looking ahead to new seasons of Broad City and Inside Amy Schumer, it can seem like there's never been a better time to be a woman in comedy.
"I do think it's a great time to be a female comedian," actress and writer Katy Colloton told Mic. "There are so many wonderful women creating content and executive producing shows." 
Colloton is one of the women comedians who creates that content: Her new comedy series, Teachers, written by and starring Colloton and her all-women improv group the Katydids, premieres on TV Land this week. 
The Katydids, so-named because every member's name can be shortened to "Katy," was born out of the Chicago improv scene. The group includes Colloton, Caitlin Barlow, Cate Freedman, Kate Lambert, Katie O'Brien and Kathryn Renée Thomas. The women had originally gotten together to do a one-night show featuring all of the "Katys" together on one stage, Colloton told Mic, but "it just went so well" that they kept performing together.
The Katydids first launched Teachers as a web series, a similar origin story to Abbi Jacobson and Ilana Glazer's Broad City. Colloton was optimistic when speaking about the power of the internet to launch the careers of young comedians, "It is a wonderful time to be a writer/actor ... because of the internet and YouTube, anyone can put their content out there."
"I don't know that anyone would have bought a show from unknown comedians in Chicago," Colloton told Mic, but because the show already had an internet following as a web series, the Katydids were able to get their feet in the door.
Teachers was picked up by TV Land in 2014, and is co-executive-produced by yet another successful female comedian, actress Alison Brie. 
Like the web series, the show will revolve around six 20-something elementary school teachers, a topic that particularly appealed to the Katydids.
"One of the Katydids was a fourth grade elementary school teacher so she had a ton of material," Colloton said. "It's a job where there's a lot of respect and responsibility placed on them ... if you're in your twenties and you're trying your best but you may still come into work hungover, it's in front of children."
Colloton hopes that the show will find an audience with young people who are, like the characters, struggling their way through becoming a grown-up. "It's really about these 20-something women trying to figure out how to be adults," Colloton said.
Teachers premieres Wednesday at 11 p.m. Eastern and will stream on Hulu. The pilot episode was also made available online ahead of its scheduled air date.