2016 Primary Dates: Full List of Voting Days and What You Need to Know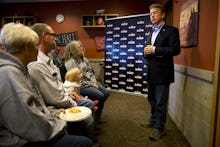 Jae C. Hong/AP
The new year is here, which means the 2016 primary dates are upon us. 
Primaries are elections in which voters choose a political party's candidate for office in an election. Usually, voters must be registered with either the Democratic or Republican Party in order to vote in the primary. The New Hampshire primary, which is also termed the "first-in-the-nation primary," will be Tuesday, Feb. 9.
After the New Hampshire primary, the South Carolina primary will take place on two separate dates. The Republican primary date is Feb. 20; the Democratic primary is Feb. 27. The South Carolina primary is called the  "first-in-the-South" primary, holding the status since 1980.
"Super Tuesday" is a specific date when many primary elections are held, usually held on a Tuesday in March. This year, "Super Tuesday" will be on March 1. The states that will hold primaries on March 1 will be Alabama, Arkansas, Georgia, Massachusetts, Oklahoma, Tennessee, Texas, Vermont, and Virginia.
The rest of the primaries, which are subject to change, are as follows. The dates were provided by U.S. Presidential Election News. 
Saturday, March 5
Louisiana
Tuesday, March 8 
Idaho (R)
Michigan
Mississippi
Tuesday, March 15
Florida
Illinois
Missouri
North Carolina
Ohio
Tuesday, March 22
Arizona 
Utah
Tuesday, April 5
Wisconsin
Tuesday, April 19 
New York
Tuesday, April 26 
Connecticut
Delaware
Maryland
Pennsylvania
Rhode Island
Tuesday, May 3
Indiana
Tuesday, May 10
Nebraska (R)
West Virginia
Tuesday, May 17
Kentucky (D)
Oregon
Tuesday, May 24
Washington (R)
Tuesday, June 7 
California
Montana
New Jersey
New Mexico
South Dakota
Tuesday, June 14
District of Columbia (D)