These Are the Designers Working Hard to Make Stylish Clothes for Wheelchair Users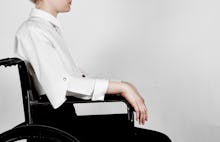 In December, Kylie Jenner appeared on the cover of Interview magazine. At first glance, the photo shoot was nothing out of the ordinary — provocative posing, latex lingerie and heavy makeup.
But Jenner was also sitting in a wheelchair in the cover photo, and that was cause for concern for more than a few viewers, who fired off tweets and first-person essays. Arguably the most powerful rebuttal came from 24-year-old Erin Tatum, who recreated the image herself and posted it on Tumblr. 
"I can barely get people to make eye contact with me, let alone land a cover shoot," Tatum, who uses a wheelchair because she has cerebral palsy, wrote. "If being in a wheelchair is trendy now, I've apparently been a trendsetter since Kylie was born."
Jenner's editorial struck a nerve with those like Tatum, who experience wheelchairs not as a glamorous accessory but as a necessary device that comes with social stigma and a slew of practical problems — including what clothing to wear.
Finding the right clothing is a challenge that people who don't use wheelchairs might not consider. But it is among the very real everyday problems that people who use wheelchairs face. Now, there are clothing designers making "seated fashion" to help address it.
What makes seated fashion different: In 2004, fashion designer Izzy Camilleri, who has designed for the likes of Jennifer Lopez and Meryl Streep, was approached by a prolific Toronto journalist who used a wheelchair because she was quadriplegic. The woman wanted a cape specially made for when she takes her dog on walks.
To create a cape that would work for the woman, Camilleri told Mic, she had to consider what exactly people who use wheelchairs need from their clothes, which need to be comfortable for sitting for an extended period of time in an enclosed space.
Camilleri took those specifications into account and continued making clothes for the journalist for the next five years. In 2009, she launched IZ Adaptive, a line specializing in clothes for people who are seated. Today it stocks an array of shirts, pants, capes, jackets, dresses, suits, jeans and activewear for men and women. They all look like quality, stylish basic pieces you'd pick up at a J. Crew — but they all come equipped with little tailoring tricks to address specific needs.
"Winter gets difficult because of all the bulky clothes, and especially if you have side supports or laterals in your chair, bulky jackets are really difficult to get on and off," Tatum, the 24-year-old who recreated Jenner's photo, told Mic. "Also skirts and dresses can get tricky if you can't cross your legs, so I have to look for ones that will lay flat so I'm not flashing everyone."
IZ Adaptive shirts are cut high in the back to prevent bunching, and jackets and long jackets and capes (like the one Camilleri made for the journalist) feature longer fronts to warm the legs and backs that extend to just the seat. Shirts and dresses tend to be cut in an A-line so they make room for a person's hips and can lay flat on the lap. Pants are higher in the back and elasticized to prevent sagging.
Designs also take into account the kind of chair the wearer could be using — either manual or power, depending on their disability.
"If the wheelchair user is self-propelling, muscles will have built up around the neck, arms and more room required around arm holes, so the collar often isn't the same size we see in standard shirting," Lucy Jones, the 24-year-old designer who shot to fame after creating a seated fashion collection for her senior thesis at Parsons School of Design, told Mic.
For Camilleri, it was also important to create clothing that can be easily pulled on and off, by the wearer or someone else, depending on the person's abilities. To that end, Camilleri sketches, designs and test-runs all her clothing on a model in a seated position.
Finding clothes that are actually trendy: But there's more than just proper fit and function. Are those who use wheelchairs actually getting clothing that they want to wear? When Camilleri started digging into what seated fashion had to offer more than 10 years ago, what she found on the market could only be described in one word.
"I did a Google search of wheelchair clothes and looked around, and at that time, everything was geriatric," said Camilleri. "A lot of polyester and fleece with kittens on them. Big, ugly, flowered polyester shirts. It looked like it was designed in 1972 and never brought forward. All the models were silver-haired, not wearing anything that was appealing to a younger demographic." 
As a designer of  stylish, cutting-edge custom fashion, Camilleri was equipped to make something different. She says that what her customers want are pretty much the kinds of classic, work-ready styles you find at Banana Republic or J. Crew.
"If you liked clothes before an injury, you're going to like clothes afterwards too," Camilleri said. "Just because you're sitting doesn't mean you stopped caring about what you wear, and want to look good." 
That's especially important considering how young so many wheelchair users are. Camilleri said a large portion of her consumer base are shoppers with spinal cord injuries, and in Ontario, where IZ is located, the majority of spinal cord injuries occur for people between the ages of 20 and 29 and over age 70. Young people are also not immune to illness; the average age of onset for multiple sclerosis, which can lead to wheelchair use, is around 30. In the United States, an estimated 3.3 million people 15 and older use a wheelchair, according to the 2010 Census.
That means wheelchair users aren't just geriatric — and many probably want things that are trendy, like jeans. But seated denim is hard to find, which is what inspired the founding of ABL Denim, a company making "adaptive jeans" for men, women and children. 
"I started with jeans because I posed a question to a lot of people at an expo," Stephanie Alves, ABL Denim's founder, CEO and designer, told Mic. "I said, 'What is the item of clothing that poses the biggest problem, and what do you miss the most?' And they just said jeans." 
By the time Alves asked the question at the expo, she had already spent two years as a tailor specializing in clothing for people who use wheelchairs. She learned that for many seated individuals, jeans are just too tight to pull on, and the rigid fabric tends to grow uncomfortable when against their skin for long periods of time.
The company started in 2013 after a hugely successful Kickstarter, and now provides jeans designed with a higher back, like Camilleri's, in a variety of washes and soft fabric. Since some individuals in wheelchairs are prone to bedsores or pressure sores, Alves makes sure pockets and seams lay flat and that the cotton is soft and stretchy.
To take into account getting dressed, Alves strengthened the belt loops and widened the waist for easier pull-on, and also made the zippers with large, strong loops so wearers can easily pull them off and on. 
In one of Alves' jeans, she's made an opening for a catheter. "As a designer, you have to appreciate construction," she said. "I had a good feel for when they told me what the problem is, I could figure out a solution." 
Removing the stigma: Both Camilleri and Alves sell their designs on their own websites. But in 2015, Alves made a major breakthrough on another front: Getting these clothes recognized by big-time retailers. In January of that year, after petitioning to several box stores, ABL Denim heard back from Walmart.com, which said it wanted to sell them on its website and cut the price for its customer base. On average, ABL premium jeans for adults are $89; on Walmart.com, they're sold for $38. 
By selling at such a gigantic chain, Alves is giving customers new possibilities for shopping — and helping remove social stigma that other shoppers might have. Jones, one of seated fashion's youngest advocates, felt the same motivation when she decided to incorporate clothes for wheelchair users in her thesis project at Parsons. Plenty of stigmas and stereotypes remain, she told Mic.
"My mother used a wheelchair temporarily after an accident, and we noticed how people's interactions with her changed," Jones said.
In the headline-making collection that earned her a spot on Forbes' 30 Under 30 list, Jones created pieces that can come apart with ease. "I opened up space around the elbow and padding so the elbow can sit more comfortably," she told Mic. "I also completely altered the fit around a knee cap, allowing the trousers to lie flat." 
But it's the headlines she made that also had an impact. There's been an encouraging increase in visibility for wheelchair users in the fashion world, as of late. Model Jillian Mercado, who has muscular dystrophy, was one of four models with a disability that appeared in a Nordstrom catalog in 2014, and she was the face of a Diesel campaign called "We Are Connected." In February, a slew of models who use wheelchairs were featured in an FTL Moda show at New York Fashion Week. 
However, a small detail caught Camilleri's eye, she told Mic: Some of the dresses kept bunching, the chiffon getting caught in the models' wheels. Clearly, the clothes themselves weren't wheelchair friendly.
It's further proof that practical solutions — in addition to feel-good visibility — are much needed, which is where brands like IZ Adaptive and ABL Denim and designers like Jones come in.
"I felt proud to be doing this," Jones said. "I do believe disability is a conversation that is very much needed, and more so how it is perceived within fashion design."