Ohio Republican Surprised to Learn He's Hosting Kim Davis at State of the Union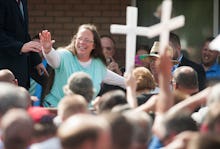 The identity of the member of Congress who got anti-same-sex marriage clerk Kim Davis a ticket to the State of the Union address was a Washington mystery for much of Tuesday — apparently even to the the lawmaker who provided it.
The Huffington Post reported just hours before President Barack Obama's big speech that Davis, who refused to grant same-sex couples marriage licenses despite a court order, got her pass to the presentation indirectly through House Freedom Caucus chairman Rep. Jim Jordan (R-Ohio).
Davis, the Kentucky bureaucrat who said her Christian faith precluded her from issuing the licenses and briefly went to jail for it, received her ticket through the Family Research Council, as first reported Monday by the Washington Examiner.
Tale of the ticket: Jordan initially told the Huffington Post that he had not invited anyone to attend the speech. Later Tuesday, after speaking with his communications director, Jordan told the outlet, "Yeah, so we gave a ticket to — at the request of the Family Research Council — we gave the ticket to Kim Davis' family."
The Ohio lawmaker said he wasn't upset that Davis scored the tickets.
Neither, reportedly, is Jim Obergefell, who was the plaintiff in the landmark lawsuit that legalized gay marriage nationwide and who will attend Tuesday night's address as a guest of the president:
"To me it doesn't seem the right venue to promote divisiveness or to support or encourage a public official refusing to serve the entire public, especially when they've taken an oath to uphold the laws of their state and the Constitution," Obergefell told reporters, according to the Hill, "but again it's the United States and she has as much right to be in that chamber as I do or anyone else does."
Davis will sit in the House audience with Mat Staver, her attorney and the founder of Liberty Counsel, a nonprofit that supports traditional marriage and opposes abortion.
Charla Bansley, Liberty Counsel's communications director, told Mic she didn't know the ins and outs of how Davis and Staver got her tickets — and that the group had chosen not to identify the pair's congressional host because that was beside the point.
"What matters is why Kim is there," Bansley said. "Kim wanted to go tonight to stand for those who have been adversely affected by the president's policies, especially on religious liberty."