Iran Takes 10 US Sailors Into Custody — Here's What We Know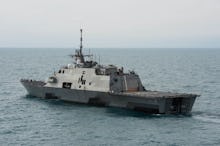 Handout/Getty Images
Ten American sailors whose U.S. Navy boats entered Iranian waters on Tuesday have been captured, and are now being detained by Iranian military forces, CNN reported.
The as-yet-unidentified American sailors, consisting of nine men and one woman, were reportedly on a training mission aboard two vessels when they entered Iranian waters and were taken into custody by Iran's coast guard, according to NBC News.
The sailors are being detained on Iran's Farsi Island in the Persian Gulf, U.S. officials told NBC News on Tuesday. Officials also told NBC that one of the U.S. Navy vessels "may have experienced mechanical failure and drifted into Iranian-claimed waters." 
Speaking to CNN, a U.S. official said that the ten sailors "may be spending the night in Iran," but officials reportedly expect that the situation will be "resolved quickly."
"We're aware. We're working on it and we hope to resolve the situation," Deputy National Security Advisor Ben Rhodes said to CNN on Tuesday. CNN is also reporting that Secretary of State John Kerry is in touch with contacts in Iran and working to "resolve the matter."
As of Tuesday evening, Reuters reported that Iran's Foreign Minister Mohammad Javad Zarif had spoken with Secretary Kerry and "assured" him "that the U.S. sailors would be allowed to continue their journey promptly."
As of Tuesday evening, CNN was reporting that "Zarif assured Kerry the sailors were being treated well and would be released."
The two vessels the 10 sailors had been piloting were riverine patrol boats, designed for navigating rivers, reports Reuters. 
Jan. 12, 2016, 7:42 p.m.: This story has been updated.