Suicide Bomber Attacks Polio Vaccination Center in Pakistan, Killing at Least 16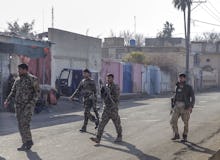 On Wednesday at least 16 people died after a suicide bombing near a polio vaccination center in the Pakistani city Quetta. According to the New York Times, 13 of the victims were police officers, who were there to guard polio workers. Polio workers have previously been targets of attacks in Pakistan. The center was in the midst of a vaccination campaign when the assailant approached the building and detonated explosives, the Times reported.
Pakistani Taliban spokesman Muhammad Khurrasani has owned up to the bombing of the Quetta vaccination center on the Taliban's behalf, the Times reported.
The motivation for the attack could be linked to a prevailing notion held by some Islamic extremists in Pakistan, Afghanistan and Nigeria, according to an article from the journal Emerging Infectious Diseases, that the polio vaccine is a Western invention intended to sterilize children, with others maintaining that vaccinations subvert the will of Allah. 
This attack comes on the same day as a shootout following a suicide bombing in eastern Afghanistan, in Jalalabad. The gunmen barricaded themselves in a house near Pakistan's consulate building, which is near schools and a hospital. During the struggle at least 10 were killed, including the three attackers, and 11 were wounded, according to Al Jazeera.
It's unclear whether the two incidents are related. No one has claimed responsibility for the Jalalabad attack.
Correction: Jan. 13, 2016