The New iOS Night Shift Feature Could Actually Help You Get a Good Night's Sleep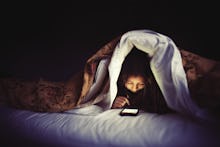 Everyone knows that staring at a screen at night messes with your ability to get to sleep. A better night's rest is on the horizon — and you don't have to stop checking Instagram before bed.
Apple recently revealed that iOS 9.3, which was released on Monday in beta form to developers, contains a blissful new feature called Night Shift. It allows users to shift the colors of their display from cooler tones, which tend to be harsher on the eyes, to warmer, more sleep-friendly colors.
Users can do this manually in the settings app, or they can set a schedule — from 8 p.m. to 7 a.m., for example. Alternatively, they can let Apple do the work for them: the feature also has also a geolocation feature, which means you can also choose to have it automatically kick in from sunset to sunrise wherever you happen to be in the world. 
Take a look at Night Shift in action:
Studies have shown that staring at blue light late into the night is worse for your health and hamstrings your body's ability to get a good night's sleep. Apple notes in its iOS 9.3 preview that "exposure to bright blue light in the evening can affect your circadian rhythms and make it harder to fall asleep."
Night Shift is designed to quash that dangerous blue light and give Apple users the tools they need for a better night's sleep. Given how much we use our devices — particularly before we fall asleep — it's a welcome addition to the iPhone and iPad arsenals.
Of course, Apple isn't breaking new ground by adding Night Shift. Other apps, like Flux, have been around for some time and do exactly the same thing. But as Alex Hern points out in the Guardian, while Flux is currently available for desktop and laptop computers, Apple has been oddly reluctant to allow it or other similar third-party apps into the iOS space. 
Flux was available for "jailbroken" devices — phones or tablets that don't have Apple's software restrictions on them — but Apple never gave it a spot in the App Store. In November, the company requested that Flux stop users from downloading the app on iOS at all.
We may now have an answer for Apple's resistance: It wanted to build its own version.
Besides Night Shift, iOS 9.3 will reportedly include new security features for Notes, improvements to Apple News, new languages for Siri and better communication between the Health app and third-party apps, among other features. 
However, given that it's still in developer beta, these perks might not look exactly the same when the official iOS 9.3 is released to the public, the date of which is still unknown. According to iMore, the release should be coming in the next few months.