Michelle Obama's SOTU Dress Sold Out in Minutes — But Only After People Debated the Color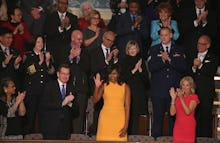 Mark Wilson/Getty Images
President Barack Obama gave his final State of the Union address Tuesday, and aside from the usual hot-button issues like gun violence, terrorism and taxes, First Lady Michelle Obama's stunning bright dress was one of the most talked-about — and debated — topics of the night.
It also sold out by the end of the night.
People freaked out over the questionable color of Michelle Obama's dress on Twitter, threatening another "the dress" debate. Some were convinced it was orange, others argued yellow. Ultimately, obsessors tracked down the Narciso Rodriguez dress on Neiman Marcus, confirming the color is an orange-yellow "Marigold" and now it's sold out. 
Here's the first lady looking fabulous in her highly-debated dress:
Here's the debate that ensued:
That said, most SOTU watchers could agree that the dress looked beautiful — and for those FLOTUS fans who've been tracking her closely, it was also a poetic bookend for her time as a first lady. Michelle Obama first established herself as a fashionista to watch in a Narciso Rodriguez dress, the red and black satin and chiffon dress straight off the runway that she wore on Election Night in 2008.
It's remained one of her most memorable dresses ever, and a reminder of how fashion-forward and colorful this first lady is when it comes to her clothes.
This dress was also right from the runway, from Rodriguez's Fall 2015 collection. But it is available online — at least in theory. Here's the link to the sold-out dress in case it re-stocks. 
While price of the dress isn't listed, similar Narciso Rodriguez pieces on Neiman Marcus are upwards of $1,000 (although there's a similar Narciso dress is available on Neiman Marcus for $1,950) — proving the lengths people will go to copy the first lady's impeccable style. Some things never change, even eight years later.