How Much Does Your State Care About Women's Health? Find Out With This Map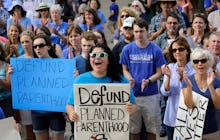 Want to learn how to avoid contracting a sexually transmitted infection, or where to get some birth control? Well, that all depends on what state you live in. 
Reproductive rights are on a "dangerous precipice" across the United States, according to the Population Institute, an organization that aims to "improve the health and well-being of people and the planet by supporting policies and programs that promote sexual and reproductive health and rights."
In its latest report, the Population Institute gave the United States a D+ rating for its treatment of women's health in 2015. In a damning annual state-by-state review of policies affecting reproductive health — from sex education to contraception access to burdensome abortion restrictions — the national ranking dropped from a C the previous year, which the report attributes partly to increased political, cultural and terrorist attacks on health care providers like Planned Parenthood. 
To find out how your state ranks, check out the map below:
The report evaluated states based on their effectiveness at avoiding teen and unintended pregnancies overall; their pregnancy prevention efforts, through comprehensive sex education and availability of emergency contraception; the affordability of family planning tools; and access to abortion care. 
Each state received a plus-or-minus letter rating (A through F) based on a tally of its scores for each measure. Overall, 19 states, including Texas, Florida, Georgia and Louisiana, received failing grades. A mere four states — California, Oregon, Washington and New Jersey — received an A. 
States with the lowest scores, such as Louisiana (which ranked 50th on the list), had some of the highest rates of unintended pregnancy, as well as comparatively high percentages of women without access to abortion providers. Unsurprisingly, many of those failing states also lacked mandatory comprehensive sex ed in public schools or Medicaid expansion to increase affordability of contraception and abortion. 
According to the institute's president, Robert Walker, the remarkable prevalence of failure is the result of nationwide attacks on reproductive rights, specifically efforts to defund Planned Parenthood and other health care providers. Recently, Congress voted for the eighth time to end government funding for the organization. It has also moved to cut funding for Title X, effectively stripping millions of American women of access to contraception and other basic health care, like cancer screenings. 
"The attacks on Planned Parenthood are potentially devastating. Planned Parenthood health centers make up only 10% of publicly funded safety-net providers, but they serve 36% of the clients seeking contraceptive services," Walker said in a statement. "The restricted access to reproductive health care would be particularly devastating for poor women and women living in remote areas." 
The report also highlighted the negative effect of targeted state-level abortion restrictions, known as TRAP laws, which make it all but impossible for women to have abortions. Nearly 300 TRAP laws, which include everything from mandatory waiting periods to regulating the width of hallways in abortion clinics, have been passed in the past five years. In 2015 alone, states enacted 57 more. This year, the Supreme Court will hear a case challenging a notoriously restrictive Texas law that could permanently shutter the majority of clinics in the state. 
While people of means might be able to leave their failing home states and get the care they need in areas that provide better health care access, like California or Oregon, low-income communities in those same regions are effectively stripped of their reproductive rights. And with high rates of unintended pregnancy also come higher rates of poverty, crime and welfare participation. 
When women don't have access to abortion, they can take measures into their own hands to terminate pregnancies, often with dangerous, even fatal consequences. 
"At the state level the trend is particularly worrisome," Walker said. "Increasingly, the reproductive health of a woman depends on the state or community where she lives. That's wrong as a matter of both rights and health." 
h/t Huffington Post