'America's Next Top Model' Is Reportedly Moving to VH1 Because 'ANTM' Simply Won't Die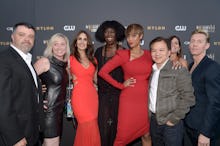 Jason Kempin/Getty Images
The "smize" lives on. Supermodel Tyra Banks' reality television show America's Next Top Model will allegedly be picked up by VH1 after the CW shuttered it after 22 seasons, according to the New York Daily News on Monday. Executive producer Ken Mok reportedly negotiated the new deal. 
The move is due to one of two opposing things: Banks, who demanded a high salary from the show, has left as its host, or her FABLife show has failed and she's actually now available to host, the New York Daily News reported. It's unclear whether Banks would be part of a VH1 ANTM run. In October — and to many fans' dismay — the CW announced that after 22 seasons and 12 years, the show would be canceled, and the last episode was in December. 
Read more:
FABLife was Banks' short-lived daytime talk show, and after just two months, she announced her departure to focus on her cosmetics line, Variety reported in November. "I was not interested in coming back to daytime and doing like, Tyra Show part two," she told Variety. The Tyra Show aired from 2005 to 2010. 
No news about whether or not any of the former judges, J. Alexander or Kelly Cutrone, will return to the revival has surfaced, the New York Daily News reported. 
ANTM, which inspired spin-offs across the globe, is possibly the longest-running fashion show, according to the New York Times. The show had become influential and somewhat revolutionary to the modeling industry's barriers by introducing openly transgender, plus-size and LGBT contestants.
Even if Banks doesn't appear on the new ANTM, she will hopefully star in the Disney Channel sequel Life-Size 2, Variety reported in December. Banks starred alongside a young Lindsay Lohan in the 2000 Life-Size.